Technology has revolutionized the way we work and think. From ordering food online to booking a cab, everything is at our fingertips due to the products of technology. It has made our lives 10X easier and faster. With time, technology has made its way to the field of education as well.  From flipped classrooms to huge open online courses, technology is steadily changing the future of higher education throughout the world. Check out the top five amazing ways technology is reshaping the future of higher education.
1. Virtual teaching assistants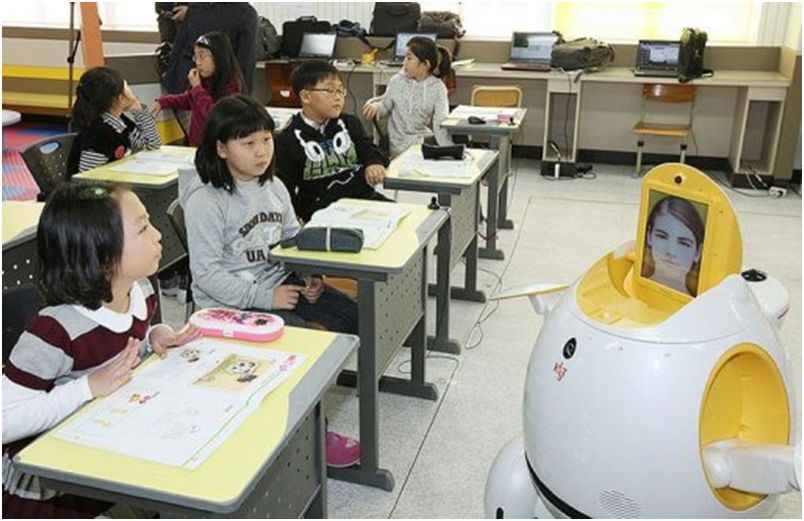 Image source: https://phys.org/news/
Imagine your professor is lecturing on a topic that you are interested in. But, wouldn't it be difficult for you to get your questions across and doubts clarified amidst a class of thousands of students? After all, most of the students may have tons of questions just like you have. And the professor isn't going to be there in the hall forever. A virtual teaching assistant can come in handy for situations like this.
Several universities have started testing virtual tutoring to see if this technique can provide the right study assistance to the students whenever they need it. ALEKS, for example, is an adaptive virtual learning system that offers students a fully personalized learning experience tailored to their academic strengths and weaknesses.
Benefits of virtual teaching assistants:
Access to classes from anywhere at any time
You have the freedom to study and make up for the classes that you may have missed from anywhere and at any time.
Effective time management
Students who work part-time can balance work and assignments without having to compromise any of the two.
Virtual teaching assistants can track a student's performance and guide them according to their individual needs.
You can get instant feedback on your papers and the virtual teaching assistants are capable of grading your documents with 92% accuracy.
Some universities have already tested this technology and have obtained positive results. As per a case study conducted by ALEKS, the pass rate for mathematics students increased from 45% to 75% after the implementation of virtual teaching assistants.
Georgia Tech has come up with a virtual teaching assistant named Jill Watson. It has been built on the I.B.M. Watson supercomputer platform. This virtual teacher answers questions in a discussion forum and it helps students get over academic hurdles easily. The university is planning to develop more virtual tutors in five years.
2. A learning record for life
Say you have worked as a part-time strategy assignment writer throughout your academic life for a better experience in this field. What if your university doesn't include such work histories in your academic transcript? Let's say you have taken an online course for a degree in Comparative Literature in the middle of your semester. But, your institution tends to omit such degrees in your academic transcripts. That is when the role of an 'automatic learning record' that will list all your academic achievements, work histories and experiences comes into play.
Most of the institutions do not include work histories, apprenticeships, internships, or any other relevant or useful learning record in your academic transcript. It becomes difficult for students to apply for higher education when their academic transcripts do not show the relevant learning records and crucial work experience. The I.L.R. or the interoperable learning record, on the other hand, would list all the skills, courses, work experiences accumulated by the students.
Benefits of an I. L.R.:
Unlike traditional academic transcripts, the I.L.R. provides in-depth information about what you have learned throughout your academic life.
You can access your academic transcript as per your convenience and from any part of the world.
Proves your worth for higher education courses
The I.L.R. reveals your overall academic achievements. It justifies your eligibility for the higher education course you want to apply for.
Remains in the learner's control
You can control the I.L.R. on your own. Thus, you get to show only the academic credits that you think would impress your desired institute.
The I.L.R. is able to work in two directions. First, it helps the students update their academic records automatically. Second, it helps educational organizations comb through the records and find prospective candidates with the skills they need.
As per an analysis conducted by Credential Engine, American colleges and universities are now awarding at least 738,428 unique academic credits. It is not possible for traditional transcripts to include so many credentials for thousands of students every year. Therefore, the concept of I.L.R. has been brought forth by Walter Bumphus, C.E.O. and president of the American Association of Community Colleges, Sheree Utash, president of W.S.U. Tech in Kansas and Jay Box, president of Kentucky Community and Technical College System.
3. Virtual and augmented reality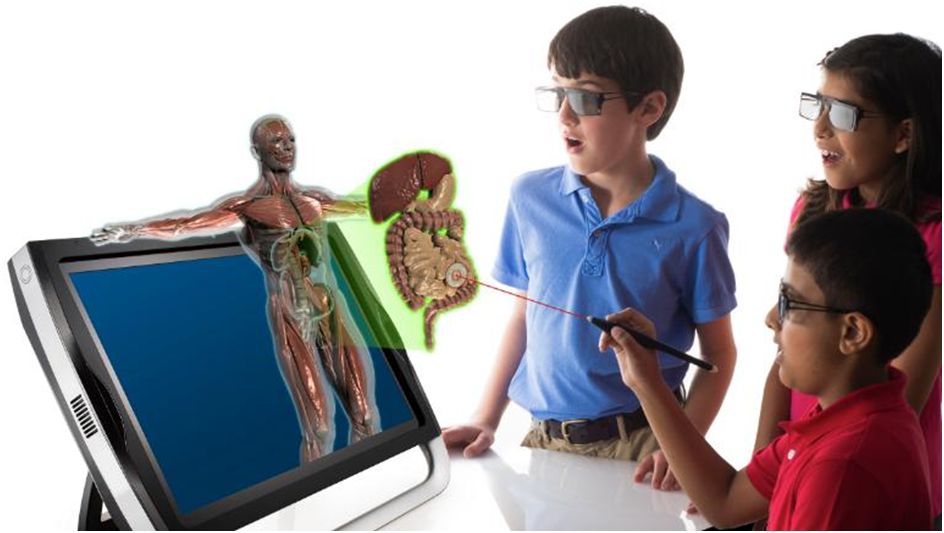 Image source: https://www.indiatoday.in/
I have always struggled with Geography throughout my school life. The location-based questions sent me into a loop every time. Things would have been easier if I had access to a 3D map for better experiential learning. Tons of students face similar trouble with specific subjects. Real-life experiences can make it easier for them to get a solid grip on those subjects. Virtual and augmented reality technologies have the potential to make this possible.
Anatomage Table, for example, creates virtual cadavers. It lets medical students practice their skills in a secure digital environment. The Western University of Health Sciences has started using this 'virtual dissection table' to help their students learn anatomical functions. The students can move virtual tissue layers to see more than 300 anatomical visualizations.
Benefits of virtual and augmented reality:
Easy in-depth understanding
A.R. and V.R. bridge the gap between the real world and digital objects, thereby letting students gain an in-depth understanding of various subjects.
Learning spatial structure and function
The 3D maps are a product of A.R. and V.R. technologies. These maps can help you detect land-use conversions or study-specific geographical locations easily.
A.R. and V.R. use visual images to convey story elements. Therefore, it can make history lessons, fun and literature classes more interesting through richly-developed characters & a relevant storyline.
Faster acquisition of skills and information
The new technologies combine interactivity and engagement with emotion. The real-life experiences enhance the ability of students to remember the lessons they've learned.
The two companies, DAQRI and Arloon, created subject-specific A.R. apps to help students cover multiple academic subjects. Elements 4D and Anatomy 4D apps, for example, take care of anatomy and chemistry. Other apps like Arloon Mental Math, Arloon Geometry and Arloon Plants focus on arithmetic, geometry and botany, respectively.
A.R. and V.R. can also be beneficial for faculty and staff. For instance, the researchers at the State University of New York use V.R. to create an authentic and interactive classroom environment where teachers can practice higher education teaching. The new technologies may not be a replacement for the traditional classroom experience. But, it's a fantastic way to build confidence in teachers by preparing them for higher education classroom situations.
4. Predictive students progress analytics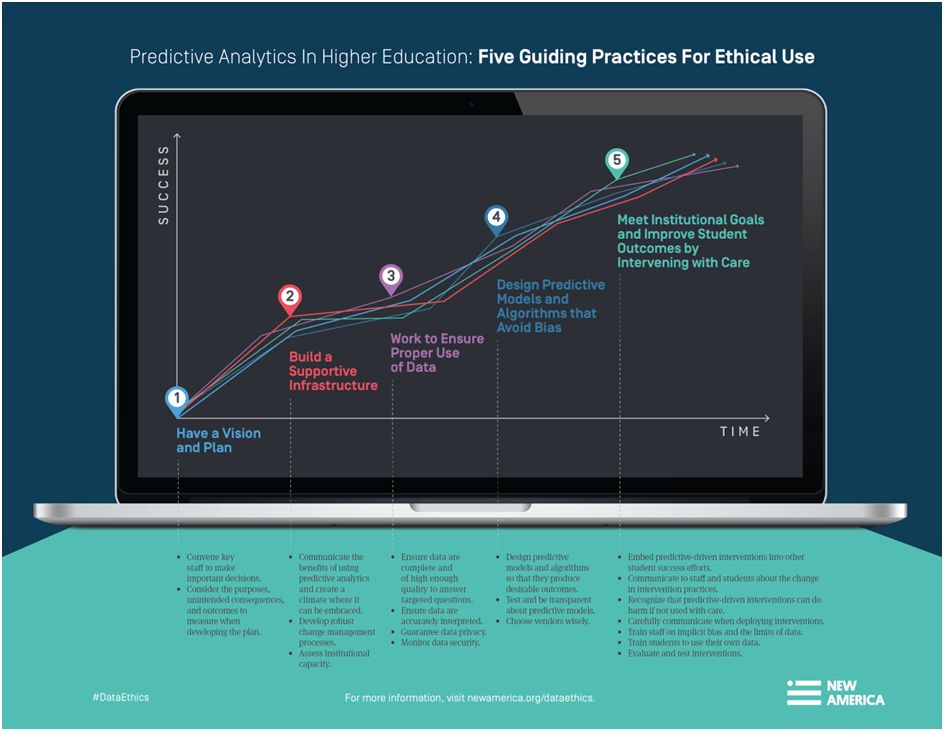 Image source: https://www.newamerica.org/
As per College Atlas, nearly 70% of Americans study at a four-year college. However, less than two-thirds graduate with a degree. Less than 30% of students drop out after the first year. According to a LendEDU survey, almost 55% of students find it hard to pay for college. In fact, 51% of them drop out of college due to severe financial issues. This has put tremendous pressure on American universities to increase their freshman retention rates as much as possible.
Therefore, many institutions are using predictive data analytics to detect academic and behavioral issues among the student population. This system uses multiple data points to gather and update student data profiles. From academic performance to financial information, predictive data analytics provide all sorts of information that can help the higher education faculty provide better support to students.
Benefits of predictive data analytics:
Informed student advising
The alert systems or Flags in predictive data analytics shows the students who are at risk of failing. The teachers can identify the students, reach out to them and help them out.
Accurate enrolment management
The predictive analytics identify the students who have poor attendance records throughout the semester. The respective academic department can focus on those students.
Professors can detect student learning gaps through this predictive data analytics model. They can customize the academic modules according to the requirement of each student.
Report on student's financial status
Higher education faculties can identify the students with a poor financial background through this technology. They can then take the right measures to help those students pay college fees on time.
Purdue University uses a predictive data analytics tool known as 'Course Signals.' This tool helps the university predict all kinds of academic and financial issues faced by the students. It notifies the teachers and students when action is needed to help the latter stay on track, reduce dropout rates and reach their potential. Course Signals also reveal every student's effort levels, academic preparation and performance through data mining and predictive modeling.
5. Online learning courses
Image source: https://www.simplilearn.com/why-e-learning-article
Online classes are the simplest product of technology that has transformed the field of higher education. Higher education involves higher tuition costs, insurmountable academic pressure and heaps of assignments. These factors often cause students to search for alternatives. The online learning program is the best alternative for that matter. Most of the online learning courses are free, offer flexible deadlines to students and can be just as effective as face-to-face education.
Almost three million students have recently enrolled in fully online classes. Six million students take at least one online course as a part of their degree. From Clemenson University to the University of Virginia, a wide slew of American universities have already started including online education programs in their curriculum.
Benefits of online learning programs
Variety of courses and programs
Higher education offers different career options for students. From neuroscience to nursing, there are online programs for all the options.
Reduces higher education costs
Online programs are way affordable than the traditional system of higher education.
Comfortable learning environment
You can attend the online learning programs without having to step out of the house. Online education lets you study and make the most of your hobbies equally.
Convenience and flexibility
Course material is always available online. Thus, you don't have to make unnecessary trips to the library. Also, deadlines are flexible in online programs.
The U.S.A. offers different kinds of online learning courses to students of varied interests. Some of the most common courses include English Language, Video Game Development, E.S.L. Online, FinTech Online Short Course, E-Diplomacy, etc.
Choosing the right online learning program is not easy. You need to make sure the program is accredited and the course schedules work with your professional and personal commitments. Talk to academic advisors for information before enrolling to stay away from fake online learning programs. You can take a look at the website of the U.S. Department of Education to check which online learning programs are accredited.
Wrapping Up,
The traditional system of education consists of several loopholes. Expensive tuition fees, complicated teaching methods and tight deadlines are the three most important hurdles faced by students in the field of higher education. Technology promises to help students get rid of all these hurdles and earn their desired degree without stress. The technologies mentioned above have the potential to provide a better system of higher education.
Students are not the only ones to benefit from these products of technology. Even teachers and academic staff can put these technologies to use for the assessment of individual student's academic performance and progress. Technology can be implemented in the classrooms to measure what the students know or how they respond to the methods of teaching.
Many universities have already started implementing some of the technologies. As other innovations like 5G and cloud computing become a reality, we can expect all universities to experiment with different tech in the classroom.
John Mark is a tech reviewer at a reputed company in Australia. He also offers computer science assignment help to students at MyAssignmenthelp.com. John loves to bake cookies and pastries at the weekends.