From coining an idea to creating a blueprint, from laying out the walls of your brick-and-mortar joint or your e-commerce store to establishing a robust team – the idea of escaping from your corporate job to running your own business might start to grow on you. For your business to expand and deliver, you need to engage with the consumers.
You soon realize that you must build your brand and promote it amongst your consumers as well. To create the brand, you must at first, analyze your target audience. You can't merely leverage your brand without knowing who to do it for. Once you've analyzed your target audience, you will then move on towards the next step: the marketing strategy.
Why You Need a Marketing Strategy for Your Brand
A marketing strategy will not only help you create brand awareness but will also help you put your foot forward amidst competition. It will also help you engage your target market with your content and services, allowing you to promote your brand for lead generation and sales.
fore you hire a digital marketing agency and put your John Hancock on a highly effective marketing campaign, look at your goals and brand value. By taking your brand's values into consideration, you'd get a chance to assess how much you need to invest in the marketing strategy.
This will also allow you to evaluate your bank account before you plunge in too deep. If you're suffering from low cash flow, you can always consider taking a loan from a bank or private investors.
It is necessary that you plan your marketing strategy, so you know how much collateral do you need for a small business loan. You need to have a firm budget that follows your marketing strategy.
Tips for a Small Business Marketing Budget
Mentioned below are 7 tips to create a small business marketing budget that coordinates with your marketing plan.
1. Research Your Competition
Gauge your competitors' plan and strategy so you can appropriately plan your own. Research the industry standards and compare them with the competition at hand.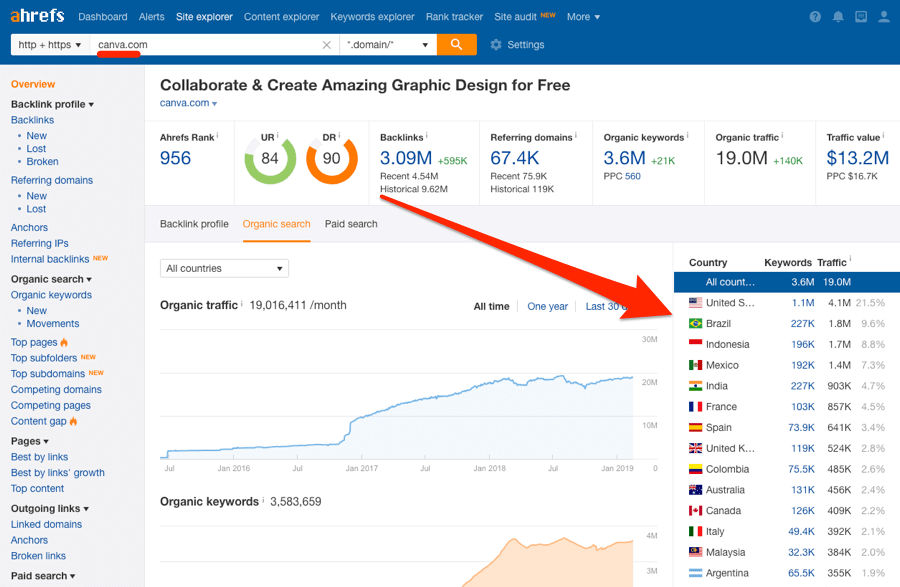 Look at online libraries or tools such as Ahrefs to find out how your competition is doing in the market. The picture above shows a competitor analysis that can help determine where the opportunity lies for a business, in a niche.
Once you find that out, view their marketing campaigns and analyze which ones generated the most leverage and why. Talk to your mentors and ask them for advice.
2. Optimize Your Sales Funnel
Before creating a marketing strategy, you have to assess and optimize the sales funnel of your e-commerce brand. Optimizing your sales funnel will help you analyze client data; giving insight into the way your consumers think.
For instance, you must determine if your brand is attracting visitors and know how to transform into leads or customers.
Check the dynamics of your sales for insight into your brand's revenue and ROI, and pay attention to the following questions:
How many visitors does your website attract every month?
Are these visitors redirected from search engines (organically) or via your social media?
How many visitors does your website convert into leads and consequently, into sales qualified leads (SQLs)?
How many SQLs proceed successfully towards conversion and end as customers?
How does your website perform with returning customers?
Are they satisfied to return to your website?
These questions will allow you to look deeply into your website's data analytics. By acknowledging the route of mass traffic, you'd know exactly where you need to invest.
3. Decide What You Need
Before creating your marketing strategy, make sure you have the resources and the operational costs to cover all the basics of your campaign. For instance,
Do you need to hire an intern for the time-being or a digital marketing agency to help you with your marketing campaign?
Also, do you need to hire more employees to take care of the implementation and execution of your campaign?
In place of these operational costs, you'd have to evaluate whether you're expecting a massive turnover through this campaign or a reduction in your market share and profits.
For instance, if your business is generating $5 million in sales, then according to The Small Business Administration, the total expenditure on advertising, brand development, marketing, and promotions should range from 7-8% roughly.
4. Make Short-Term Goals
Try to know the difference between your brand's ideology and its goals. Your brand's thinking is the vision that you're trying to portray through your services. Your goals, albeit, depend on the market share, your investment, the competition, and your target market.
Have you set your goals for the entire year, a month or a season, per se? For instance, take Halloween or Christmas – many brands delegate separate marketing campaigns just to cover the seasonal holidays.
Will these business goals impact all your teams, such as your sales and marketing teams to create a profit out of the revenue you desire?
5. Marketing Strategy is Not an Expense
Marketing campaigns are not expenses, but investments that will allocate higher revenue to your brand. You must invest in a budget that you can take risks on.
You surely don't want to lose all your sales collateral and end up back at your day job, do you? You must work with a marketing team that can quickly help you differentiate between the costs required for brand development and advertising.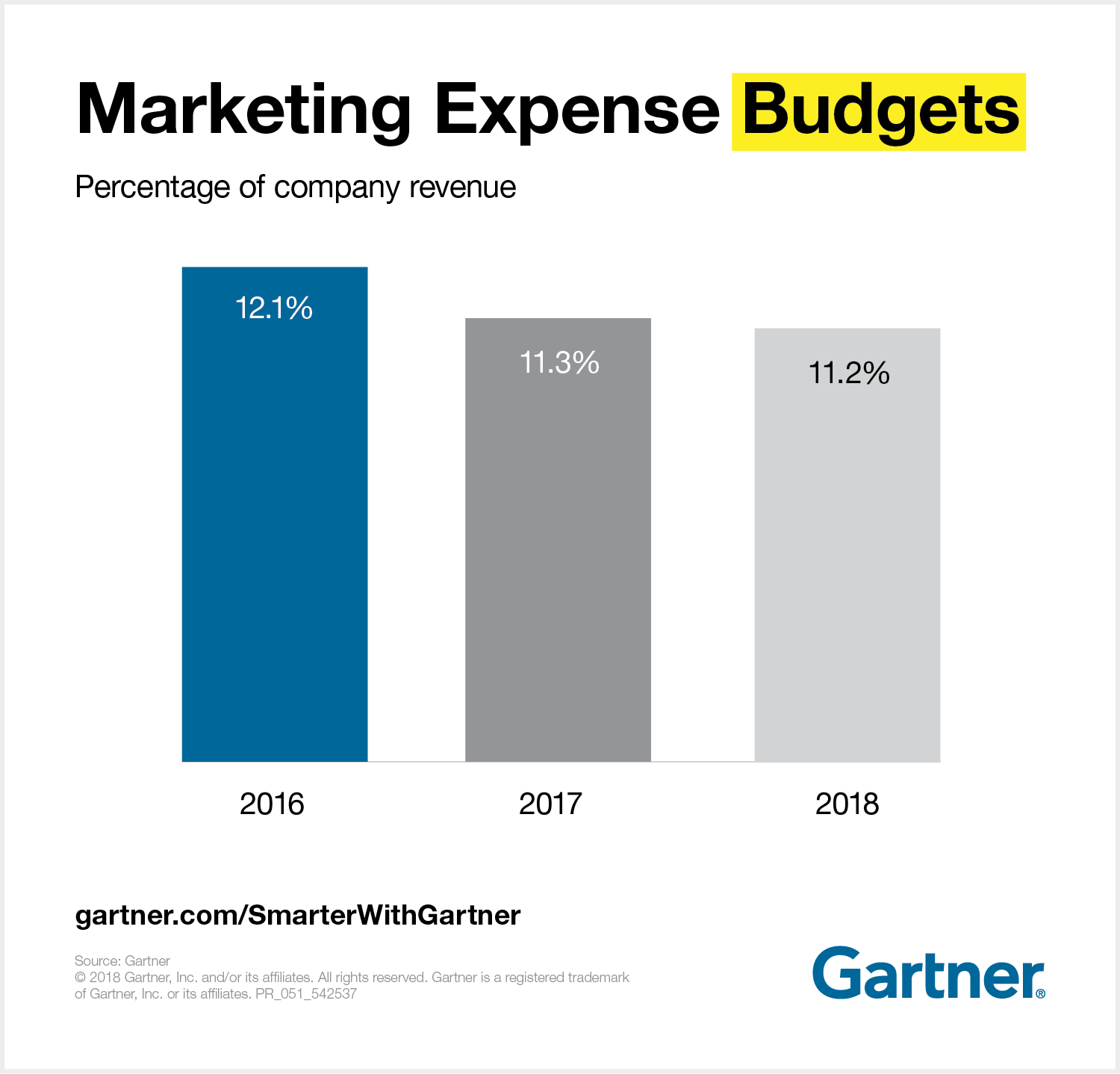 Small business budgets are expected to rise exponentially in 2019 as compared to the 11.2% of revenue generated in 2018, as shown in the graph above. You also must realize that marketing takes a lot of time and effort – but it's never uncertain. You win some, and you lose some.
6. Plan According to Your Growth Stages
If your business is in its growth stage, then you must assess whether you can take the risk or not. The growth stage can be divided into two modes, each of which will help influence the methods you need to approach to build your brand.
Planning mode allows you to go 'slow and steady. This mode will enable you to grow but at a stagnant rate.
Growth mode is a risky mode – it allows you to go all out and requires you to devise marketing strategies that will generate your much-awaited spike of revenue. You need to broaden your horizons and operate your website with proper development and maintenance.
7. Eye Your Niche's Current Trends
Your target audience is akin to follow a series of trends on social media. These trends help to shape up their ideologies and mainly their purchase intent. You need to keep an eye out on your niche's current and future trends so that you can invest in your marketing campaigns accordingly.
You also need to make use of technologies such as artificial intelligence, data analytic tools, and communicative resources that will help you be on your toes with your audience.
For instance, suppose your target audience visits Instagram avidly, which is possible since it roughly attracts 300 million users. Cater to incorporate user-and-niche-related human-interest stories and ephemeral content into your marketing strategy so that your audience can engage with your brand for at least half the time they spend on the Internet.
Sohail Rupani is a senior SEO strategist at PNC Digital, a digital marketing agency based in Orlando. He specializes in SEO and SEM techniques. He is passionate about technology and loves to analyze the tech industry in his spare time and stay in touch with the latest happenings. He also writes technical articles about SEO and digital marketing. Follow @sohailrupani for more updates.