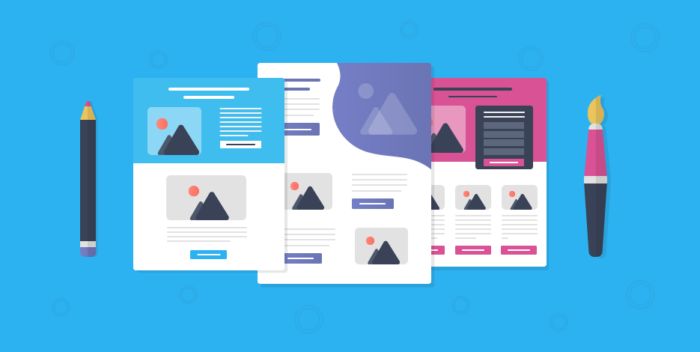 In general, a landing page is used to lead the user to a conversion. That is, to be successful, the visitor must become a lead. This is what you should take into account when creating these pages.
If a user searches for a particular topic on Google and accesses a post on your blog, for example, that post will be the landing page. You already type your website address in the URL bar, "land" on the home page.
In general, these pages contain much fewer elements and links than the homepage of a standard website. This is done on purpose: after you manage to take a visitor to a landing page, your only goal with them should be to get the conversion.
1. Create simple, straightforward headlines
A reference site in copywriting, says that 8 out of 10 people who reach a page only read the header, which means that only 2 out of 10 will read the rest of the page.
The conclusion is simple: the main elements of a page are, in fact, the title and the subtitle. But you already knew that, right? The important thing is to take advantage of this information.
These elements, then, must clearly and directly convey the value proposition of your offer. When a visitor arrives at the page, the person has to think "what an interesting offer, that's what I need, I'll read the rest of the page". For example, for a web app developer agency, the user must find straightaway when landing on the page, what are the platforms and software that the company uses. Otherwise, the user will leave it or have a bad user experience because the information was not clear.
2. Use contrast in the colour palette
The colours of a landing page need to consider some points. First of all, try to use your company's visual identity palette. However, you should remember the reason for the existence of this page: conversion.
When building an LP, you can conclude that your colours are not working. It is essential, for example, that the CTA button (call-to-action) has a sharp contrast with the rest, precisely so that it draws attention.
An example: if the page has shades of black and white, put a red in the call-to-action! That feeling of cold versus warm tells the reader where he must interact and, consequently, convert. Wow, win-win!
3. Don't use links or menus
You may get tired of reading this in here, but it's true: the reason for having a landing page is conversion. Therefore, the smaller the number of click options the reader has at the expense of the CTA button, the better.
If we are not convincing you, think about the following: if you put links to your company or a "learn more about the product", the reader can click and enter that hyperlink spiral that makes us lose hours on the internet. And so, it doesn't come back to LP.
This also applies to menus. We know that on your company's website it is essential to help navigability, which even gives confidence to the potential customer. The secret, as we will see below, is to tell him by visiting everything he needs to know already on the landing page.
4. Match the form to the funnel and offer
About the ideal size of the form? Well, there is no formula. Not one size fits all type of thing. It is not possible to say how many and what information your LP should ask for, as the variables are many.
The main thing to take into account is where your material is in the funnel. If it is something more top, it does not make much sense to ask for the phone number or even the person's position. You will still develop a relationship.
Also, assess the relationship between the offer and the form. If you are offering something precious, you can ask for more in-depth information. It is not a good idea to exaggerate, but the potential lead will understand that it needs to give more data in return.
Trust is also a factor. If it is the person's first contact with your business, they may not want to fill in too many fields. The secret, like almost everything in digital marketing, is to test.
5. The CTA text should leave no doubt
We have already talked about the colour aspect of CTA, but it doesn't stop there. However, there is another element on the button as vital as them: the text. In short, it should leave no doubt about what will happen when the user clicks it.
Direct and straightforward actions give the user complete certainty of what he will receive in exchange for his information. "Receive the eBook", "Request a callback", "Book a free session" and "Secure my spot" are good options. You can also put "I want …" at the beginning, to reinforce the action. A practical example is the CTA for companies that offer specific services, such as construction certificate. People like free stuff, so in this case, a great call to action would be "Request a free quote" or "Get a free quote".
And it is always reinforcing: deliver what you are promising and never let your lead down.
6. Videos can complement the content
A video can help a landing page convert more. Although it seems inconsistent with what we talked about focusing on CTA, remember that the footage is embedded on the page. That is, it is not necessary to leave to get more information.
This way, your offer can be more interesting, since the lead will have more information. Also, the video is a visually valuable format and can fit perfectly with the landing page design.
Think, for example, of having a video showing the features of your product on a test order page. Or maybe testimonials from satisfied users. The options are multiple! And what we talk about here goes for images too: it has to be part of the content.
7. Be objective
You may feel like giving a lot of details about your offer. Sometimes that material was the result of intense production work or the product you are offering a test for is almost like a child. You already know what we're going to talk about, right?
That's right: what matters in the design of a landing page is to lead to conversion. Be objective and put only what is necessary. Of course, this varies a lot depending on what is offered, so always test to reach that ideal minimum!
In most cases, a conversion page will need more descriptions about the offer to be able to sell the idea well, eliminate doubts and align expectations. In such cases, we usually follow some good practices:
Use bullet points;
Write fragments or short sentences that are easily readable;
Choose from 3 to 5 most essential items, without using very long blocks of text;
Highlight relevant terms in bold;
It is worth remembering that the relationship with this lead is yet to be built. The purchase journey is not over yet, so you still have a lot to say. Always keep this in mind when designing your strategy.
8. Other design elements
Here are some other elements that you can include to make your landing page more appealing:
Target the visitor's gaze: use other types of targeting on the site, such as arrows or an image of someone looking at the form. The human eye usually follows these indications, and this can influence the conversion.
Social proof: put evidence that other people bought, downloaded or found some value in the offer. Use sharing buttons with social media data, many downloads or even testimonials.
Sense of urgency: add to the landing page how much time is left for an offer to expire, which encourages the undecided visitor to act faster.
How to advertise a landing page
After being created, the landing page needs to be promoted. After all, nobody knows that it exists yet. You must rely on your website's traffic channels and, from there, direct your promotion strategy to generate leads and increase your potential customer base.
The most important channels for the promotion of landing pages are social networks, your company's website/blog, e-mail marketing and paid media.
Social networks
Take advantage of the social networks in which your company is present for the generation of Leads. Facebook, Twitter, Pinterest, TikTok, LinkedIn, Instagram and so on. All of these networks have people who may be interested in your offer.
On Instagram, you can use Stories to create a publication with a link to your LP. On Facebook, a right way out can be to publish the landing page in some group, in addition to its fan page, of course.
Site / blog
Take advantage of existing traffic and advertise your landing page on the most accessed pages to generate Leads and optimize your website or blog for conversion.
E-mail marketing
The use of Email Marketing allows you to distribute relevant content to your contact base and strengthen your relationship.
You can send an e-mail to post a new offer or new material and monitor performance. Work with segmented groups, considering profiles and interests to carry out personalized communication.
Paid campaigns
Paid media can help a lot in boosting your business. In Google Ads, for example, you will find qualified visitors who are looking for a solution or content for your companies.
In Facebook Ads, you can build your audience through detailed segmentation. However, he is not actively looking for a solution.
While in Google Ads, you meet demand, in Facebook Ads, you choose the audience and generate demand.
SEO for landing pages
In addition to the channels we talked about above, there is another one that stands out a lot: the search engines. And this highlight is for an obvious reason: it offers qualified traffic, at the right time when the person is looking for information and at no cost.
Optimizing your landing page – not a page on your website or blog – to be among the top Google results means that the visitor will need to go fewer steps before converting and becoming a Lead.
Optimizing a blog article may be slightly more natural, but offering rich content directly can significantly increase your conversion rate!
Evaluate the results and optimize them
Most of the times that we start a work to promote content or new offer we don't have much historical reference. This leads us to carry out experiments, considering the mapped persona.
If you are running a paid media campaign, follow the results and see if the performance is within market practices. If not, review it and make any necessary adjustments.
There is no point in creating a campaign on Facebook Ads, for example, leaving it active for a month without evaluating its performance and optimizing it.
Also, evaluate the behaviour in each traffic channel and their respective performance.
Try to answer the following questions:
How is the result of your promotion actions?
Are the users reached reaching your landing page?
If the answers are negative: there are opportunities, you will have to improve the performance of your promotion. For example, it may not be reaching the desired audience.