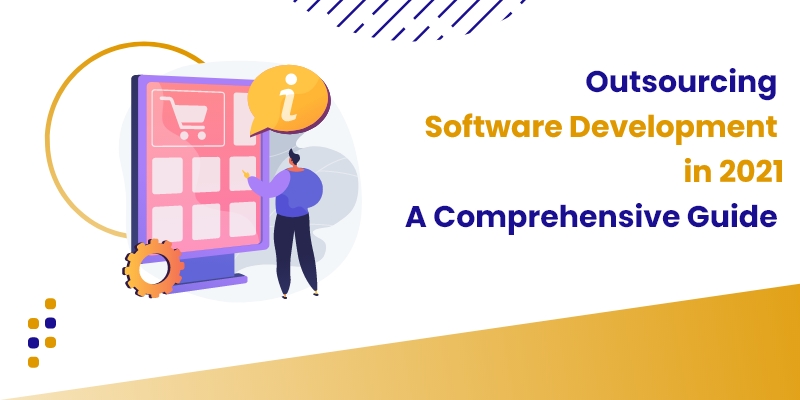 With the digital revolution, outsourcing software development has emerged as a global trend. Initially, getting software projects done on a budget was the main reason for outsourcing, but now the need for outsourcing varies.
The region having a high demand for technology talents often fails to have the right engineers for the projects. In short, as the demand for skilled professionals rises, the pool within the geographic region starts shrinking fast. The lack of technology talent is also one of the main reasons for outsourcing.
But, outsourcing does not often go as we think. Sometimes, people get bad experiences due to various factors. It may be getting a project delayed, partnering with the wrong software development company, or others. So, some way or the other, the lack of experience for how to outsource or how to find the right outsourcing partner gives them unwanted experience.
If you know what to outsource and how to outsource, then outsourcing is the thing for you. Even the top tech giants like Google, Microsoft, Boeing, Ashton Kutcher, and many others alike do this.
According to Grand View Research, the global outsourcing market is expected to reach $405.6 Billion by 2027. And, around 90% of organizations outsource a part of their project to offshore, nearshore, or onshore reasons.
Why not you?
When it comes to outsourcing, you need to understand plenty of things, such as what, where, and how to outsource, apart from other nitty-gritty details. So, if you are looking to outsource IT projects, this article is for you. At the end of this article, you will understand the best practices of outsourcing that never fails. So, stay tuned;
What is Outsourcing
Outsourcing refers to when organizations approach a third-party company or individual to perform or carry out tasks on their behalf. In the case of IT outsourcing, the process of hiring a software development company for a period of time to build a project (software) using the appropriate resources. Outsourcing doesn't often mean offshore. It can be even onshore or nearshore, apart from offshore outsourcing.
Offshore IT outsourcing refers to when you hire a software development company or individual programmers from a distant country or region. For example, an organization from the USA hires a software team from India, the Philippines, or other countries.
Onshore IT outsourcing is when an organization hires a software development company from the same country, city, or state. For example, a startup company based in Florida hires a software development company from Georgia or Alabama in the United States.
Nearshore IT outsourcing is a practice of outsourcing development projects to a software development company from a neighboring country. For example, an organization in the USA hires or outsources projects to a software development company in Canada or Latin America.
The Benefits of Outsourcing
Outsourcing, in general terms, is a strategy to hire a third vendor to perform your, mostly non-essential, tasks, such as HR, tax preparation, accounting, marketing, software development, etc. In a survey by Deloitte, cost-cutting is the prime reason for outsourcing, though there are plenty of other reasons for outsourcing. Take a look at it yourself;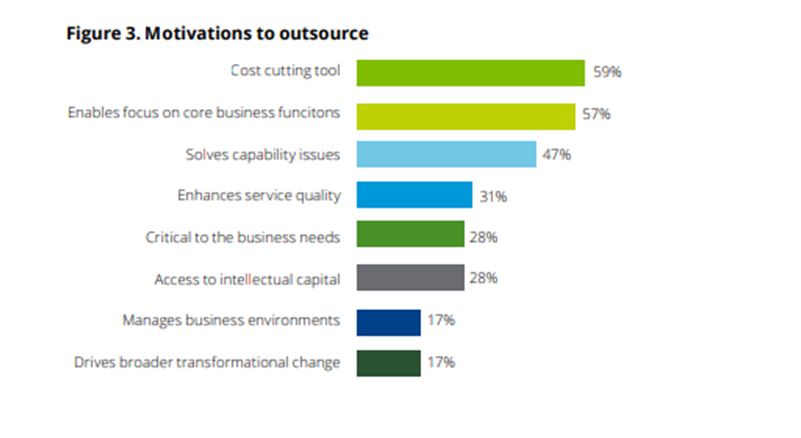 Source: Deloitte
So, you must have understood why outsourcing is in trend. Let's understand some of the additional factors in details;
Save Costs and Time
Cost is, no doubt, the most prominent factor why organizations choose to outsource, though it is not the only reason. Why pay $150/hr to $250/hr to a local developer when you can get the same thing done for $15/hr to $50/hr from another country. You can save the cost and create a highly scalable and feature-rich application, can't you?
Short Term Commitment
What if you hire a dedicated software developer or team, or software development company on a project basis? Outsourcing gives you that ability. No associate costs, no PF, or insurance; outsourcing saves you from all these expenses. Besides, when you run an organization, you need someone with one skill today and may need another in a few months. Will you hire again? No, a wise man will outsource the project instead of hiring an in-house developer.
Stay Focused on Core Business Process
Obviously, organizations choose to outsource only non-essential things. That gives your in-house team enough time to stay productive with the core in-house projects. When you have a project that requires special training for your internal team or hires a professional with a new skill to complete the project, outsourcing should be your call instead of hiring programmers or providing training.
Access to Latest Technology and Talent Tool
Outsourcing gives you access to the latest technology and a pool of talents. There may be projects that require different skill sets and technology. You are not going to hire the professional with the required skills or borrow the technology for a mere tiny project. Outsourcing keeps you afloat without letting you lose potential clients by ignoring their projects. A simple outsourcing can help you get well-qualified software engineers and advanced software development tools.
The Challenges of Outsourcing
While outsourcing is the best marketing strategy to maintain potency and a competitive edge in the market, it comes with good and bad experiences. Many startups can be seen praising the merits of outsourcing while others seem sworn off owing to horrible experiences. Let's explore some of the top challenges you might face while outsourcing your projects.
Project Quality may be Compromised
In outsourcing, quality control has always been a big concern. This is mainly because you don't know who is working on the project, and the code that is being written is high quality. You can not judge the engineers as who knows if the portfolios sent to you are his or someone else's. However, there's a fix for this challenge. Simply hire someone local to act as a consultant, explore companies, and take their test to see if they are a good fit.
Code Collaboration
When it comes to outsourcing, collaboration is yet another challenge you may have to face. Cultural gaps can be hindrances as the developers overseas may not be able to understand what you are asking for. However, you can avoid this issue by precisely defining the project scope and writing extremely detailed requirements. You can also mitigate this tissue by utilizing scrum.
Coping with Specific Time Zone
If you have outsourcing partners or developers in very different time zones, you might have to wake up in the middle of the night to have a virtual meeting with your development team. You may have to take a different approach to solve this issue. For example, fix in-between time zones. Both parties may have to compromise a bit, but things can be sorted out without creating any big issue. Another solution for this issue is to hire a software development company with a project manager.
Tips for Outsourcing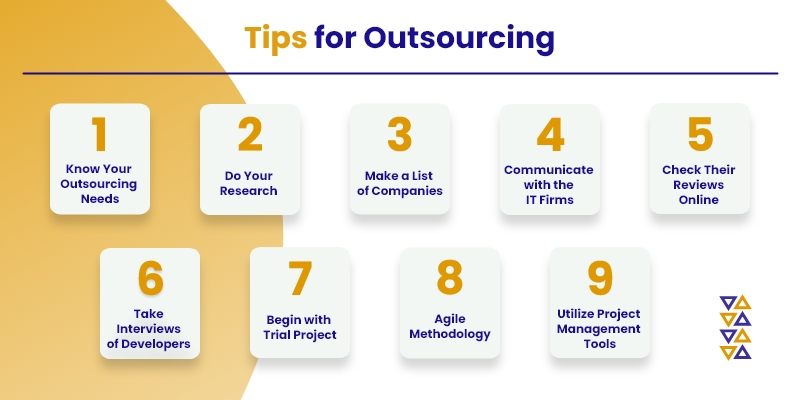 "Do what you do the best, outsource the rest," someone excellently said about outsourcing.
However, you need to make sure that you do informed outsourcing, which never fails. Even you may have heard many people crying foul due to the horrible experience. Yes, such a thing occurs but can be avoided when we follow the right process. Let's explore some of the best practices of outsourcing;
Know Your Outsourcing Needs
You cannot outsource random projects to offshore regions. When you have a project, you need to make sure if you want to outsource the entire project or just a part of it. Besides, if you want to outsource a part of software development, evaluate what you can do the best, what skills you have, and what additional resources you need to complete the project.
Do Your Research
Now, you need to research online and do some legwork. For example, explore which is the best country to outsource your project. What is the hourly development cost in the region? What technology it requires to develop your project and if the country you plan to outsource is efficient enough in building such products. Most importantly, what you should outsource and what not has to be decided in this part.
Make a List of Companies
Now, select some of the top software development companies and make a list. Do not select companies from just one region or country. Take the help of an expert or your friends who have previously outsourced projects. You need to explore which country is best known for which technologies. Based on your requirements, you can make lists of companies from a couple of countries.
Communicate with IT Firms
As you have made a list of countries, the next thing you need to do is to communicate with each company and talk about the outsourcing needs. Note down the important information you get from them. For example, you need to inquire about the team experience, expertise, project completion time, development costs.
Check Their Reviews Online
No, you are not done with the process yet. Now, you need to check reviews of the company/ies you have selected from the list. You can explore independent reviewing sites, such as Clutch, Goodfirms, etc., for better ideas. You can also go through their work portfolios to check their records. Besides, talk to their past clients if you have access to their contact details.
Take Interviews of Developers
Now, you are close to the hiring process. Still, you need to make sure that the company you are approaching has skilled and experienced programmers. You can adjudge their skill and experience by taking their interviews. You need to prepare a list of questions and even assign a small practical task for them. Take help from technology excerpts to assist you in outsourcing software projects.
Begin with Trial Project
Now, choose the final software development company or individual developer. Give them a small project for trial without letting them know. Now, using the proper software development tools, check how they work on your project. You can communicate with them to ensure they are readily available for the communication and their command over the language. If they are not good enough in English, code collaboration may be the issue. We have suggested a solution when you face this issue.
Use Agile Methodology
So, you have decided to work with the company, right? Now, you need to implement agile methodology so that you can keep track of the product development life cycle. Through this methodology, you can break your project into various phases. It will keep the development team, and project owner on the same page, and the project scope can easily be conveyed. The agile methodology also helps you complete the project within the deadline.
Utilize Project Management Tools
Project management tools are crucial for assigning tasks and reminding the development team about them. Usually, a software development company assigns various tasks to a development team to work randomly. And, when there are a number of tasks assigned to a team, the nature of it becomes complex. That's when project management tools come in handy by informing about each task they have to finish right on deadline. Project management tools like Trello, Asana, Basecamp, etc., can help you manage the tasks efficiently. Make sure that you have hired a software development team with a project manager. Your project manager will be liable to get the tasks finished on time and report you back daily.
Final Thoughts
As you have gone through every nitty-gritty detail of project outsourcing, you must have reached a concise account by solving many of your doubts. However, we suggest you take help from an expert before outsourcing your special IT projects. We don't want you to go through any horrible experience; instead, we want you to reap all the benefits that outsourcing has to offer. Explore more, and unless you are confident enough, do not outsource your project. You can also share your thoughts and experience if you have any regarding outsourcing. It will help our readers improve and make a guided decision.