A few years back, finding content online wasn't quite that easy. However, now you can find loads of content available on the internet related to all sorts of topics for free. Even though it sounds pretty good, having loads of content available for free, digging out high-quality content is the real challenge. For that very reason, and to make your lives better, the best content curation and content marketing tools have been created.
Content is the best way to bring more traffic to your B2B marketplace site. You can either do that with the help of content curation or content marketing.
Difference between Content Curation& Content Marketing
Content curation is the process of finding content available on the internet written by others related to the same topic you are looking for. In this strategy, you save a lot of time as high-quality content shows up with the help of the best content curation tools.
On the other hand, content marketing is the creation of unique content by yourself. However, in content marketing, you can also see people using content curation tools to gather information and data related to the topic. With the help of this data, new and unique content is created to avoid spam.
Best Content Curation and Marketing Tools – Easy Access toHigh-Quality Content.
All content curation and marketing tools available in the industry are easy to use and flooded with features which enable you to get your hands on high-quality content without making much effort. Take a look at which ones are preferred to be the best in the market:
Buzzsumo
If youtake a look at the Buzzsumowebsite, the first thing you will see is "Analyze what content performs best for any topic or competitor." Let me assure you that these words are what this content curation tool is all about. If I need content on a particular topic, this is my first stop. Apart from that if you type in a keyword or a domain name, you will find out all the top shared content related toit. As you can see below, I entered the keyword NBA,andBuzzsumo just provided me with the hottest content being read, followed and shared on the internet. All I need to do now is click on one of these articles use it on my domain and start counting the visitors.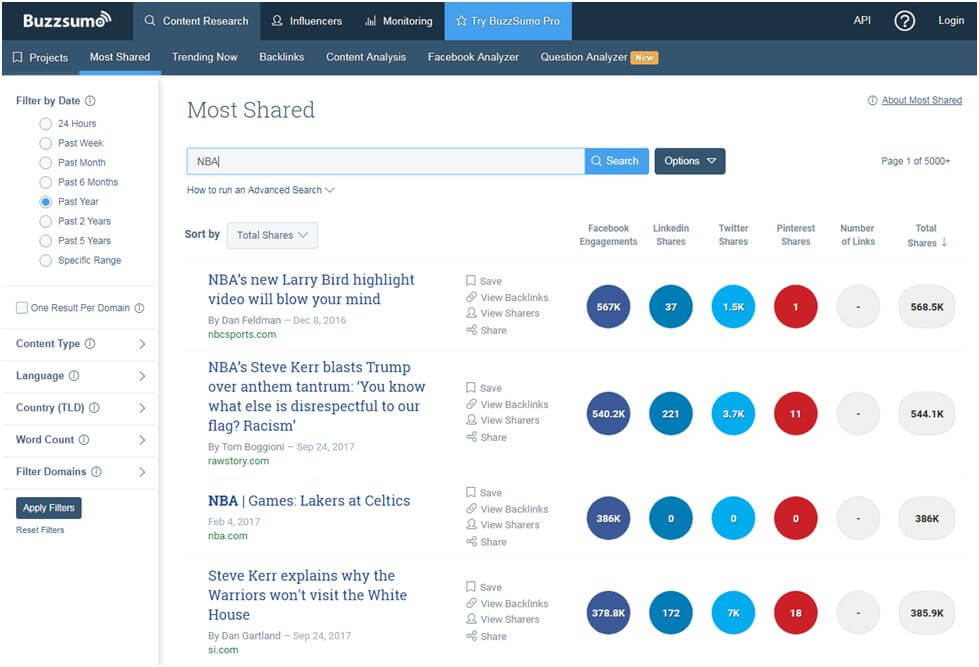 If you take a look at the sidebar, you can also see that they have a filter system which helps you find content from different dates, languages, countries, and domains. The filter will also make sure you find the type of content you are looking for with the exact word count you require. Now it would be entirely your choice to share the same content or create unique content with the help of this toolfor the purpose of content marketing.
Pocket
I am pretty sure when you are surfing the net you come across many interesting articles and topics which you would like to go back to. Pocket can come in very handy in such scenarios. Pocket is quite similar to how you can bookmark a page but comes with more robust features. With the help of Pocket, you can save about anything you find fascinating and later on tag friends to it so that they can also take a look at it.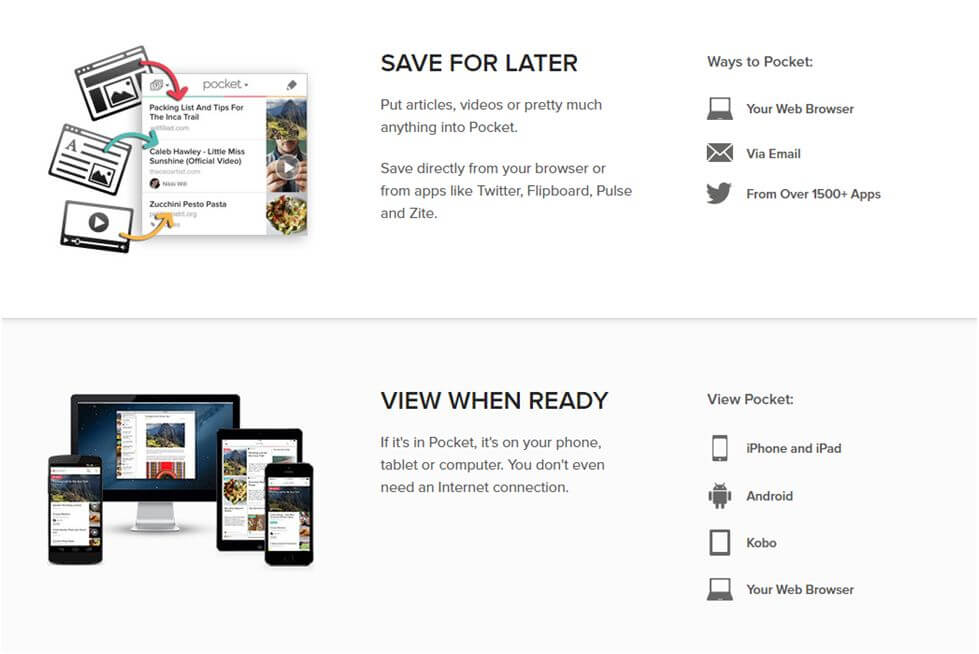 Pocket also comes with a robust search feature which helps you locate the article you are trying to find,out of the things you have saved. The best part about Pocket is that it can be integratedinto your web browser for easy access. Apart from that, after saving something you can install the app on your phone or tab and access it there also. Sounds like a pretty organised way of storing important content to me!
Feedly
Were you a fan or a frequent user of Google Reader? If yes,Feedly is the perfect and freealternative to it. It's a free content curator which helps you in gathering all the content related to your topics or keywords.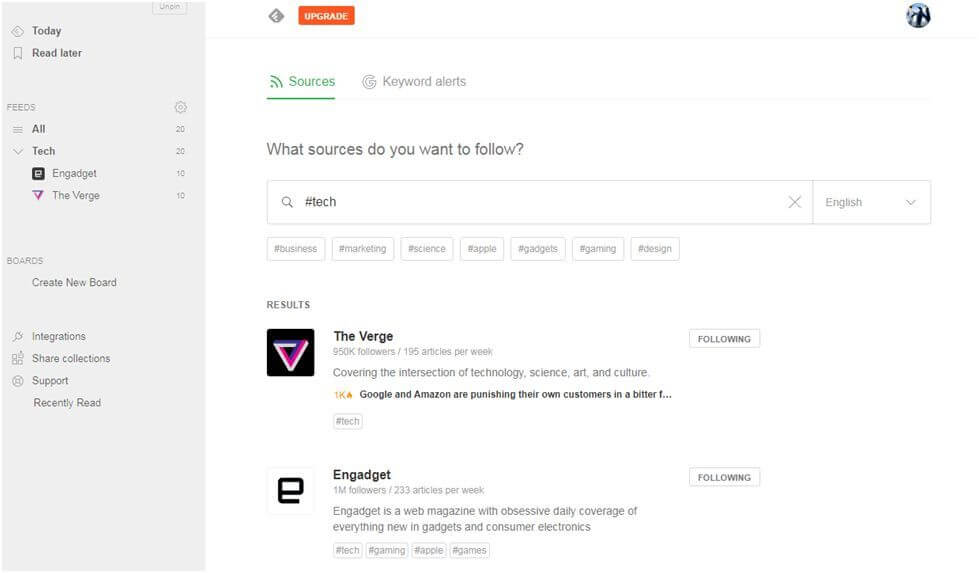 Apart from the free version, there is also a paid version with many more features which can come in handy for both content curation and marketing. With the freeplan, you get access to only 100 feeds. So you can take it for a test drive and later upgrade to the Pro Plan ($5/Month) or the Team Plan ($18/Month) for access to unlimited feeds and many more features.
Curata
If you plan to work on a high scale, then you can surely go forCurata for your content curation and marketing. Curata is a business tool for more detailed and sophisticated content. It is designed to gather the highest quality content based on your requirements.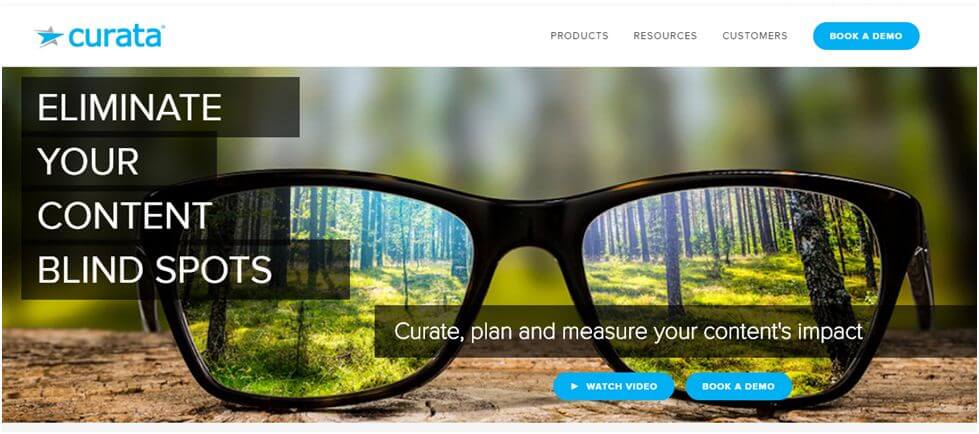 A significant drawback of Curata is the cost that you have to pay for it. Starting at $499/month, it is quite a lot compared to other content curation software. But if you have the budget and are doing well, then Curata is an excellent option for your B2B marketplace.
Quora
Quora is a free social Q/A forum for people who love to ask and answer questions related to all sorts of topics. Wondering how this is a content curation tool? You can find content on almost any subject on this site within the answers.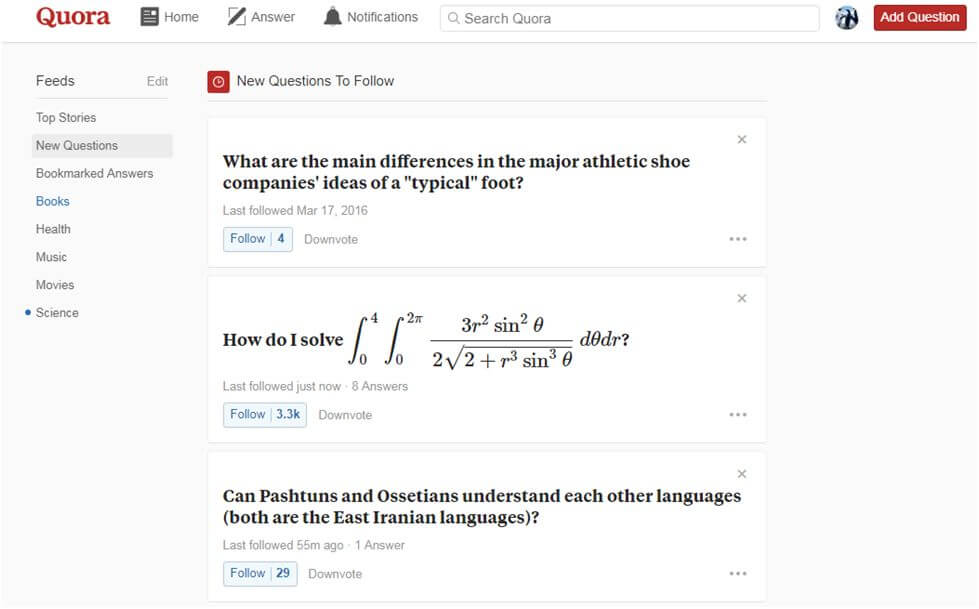 You can even follow specific topics and interests to stay updated with new questions and answers being posted every now and then. The details and data available in the answers can be used for content marketing of your B2B marketplace.
Conclusion
With the help of the above-provided content curation and marketing tools, you will surely be able to gather all the content you need for your B2B content plan. Most of them are free,so you don't have to worry about making a budget for it. If you feel in the future that the time has come to spend money on content curation, you will always have the option of upgrading to paid versions for better results and more features. Pick wisely!
Abdullah Ashraf is a B2B marketing expert who works for ExportHub – A B2B Portal! In his free time, he loves to write blogs in which he shares his experiences and useful tips that modern B2B marketers can benefit from. Apart from that, he is an active gamer and a tech guru who loves watching and reading anything related to technology.