Website development cost depends on so many aspects that it's rather impossible to tell the exact price right from the start. Moreover, the total cost can't be fully estimated until the functionality and design of the website are thoroughly planned. Still, taking into account the general experience in the sphere, we can try to figure it out.
In our article, we provide a rough estimation of web development costs, mentioning all the stages and including additional expenses you face while creating your own website.
Most common types of websites
First of all, we would like to mention that website, application or software development cost mainly depends on the number of hours spent on the project.
Currently, there are various websites created for different purposes – blogs, portfolios, online magazines, e-shops, etc. Of course, there's a difference in creating a simple blog with minimum features and working on a complex website for a well-known corporation. So let's review the most popular types of websites, their peculiarities, and approximate development prices.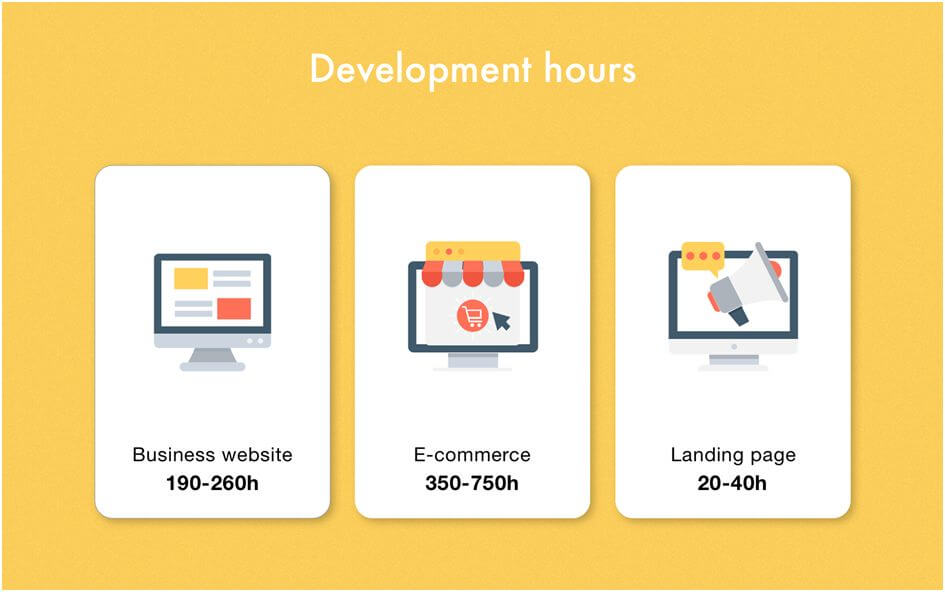 Business websites
Business websites are created for promoting services, informing customers about new products, etc. Usually, they consist of at least a few pages with information about the company, their mission or production, contacts, prices, and other details.
The time developers spend on such projects, as always, depends on website complexity. Here's a rough estimation of business website development hours and its total cost (taking into account the average $50/h rate).
| | | |
| --- | --- | --- |
| Business website | Min | Max |
| Hours | 190 | 250 |
| Cost | $9,500 | $13,000 |
E-commerce websites
According to Statista, the number of e-retail sales is expected to reach 17.5% in 2021. That's why nowadays e-commerce websites are as popular as ever.

Working on such a project is complicated enough and requires investing in not only functionality and design but a thorough marketing strategy. That is the reason development tools change from product to product, according to website complexity and objectives.
Let's calculate the average price of developing an online store.
| | | |
| --- | --- | --- |
| E-commerce website | Mix | Max |
| Hours | 350 | 750 |
| Total cost | $17,500 | $37,500 |
Landing pages

Simple yet informative and easy-to-use landing sites consist of a single webpage with all the necessary details about items or services the company or person provides.
The main goal of a landing page is to encourage visitors to do a specific action, for example, download an e-book or order an item. Compared to other types, landing pages are much simpler, however, they may be relatively long and contain complex animation effects. Mostly, that's what defines the number of development hours and the final cost.
| | | |
| --- | --- | --- |
| Landing page | Min | Max |
| Hours | 20 | 50 |
| Cost | $1,000 | $2,500 |
Main stages of developing a website

We've prepared a detailed review of the main development stages for a better understanding of the process. Currently, there're three main stages of website building we would like to mention.

UI/UX Designing
UI/UX design plays a vital role in website success. After all, visitors may be looking for specific information or items on your website but that's the website's cover and usability that makes them stay.
Usually, website design process is divided into three parts which are research, wireframing and designing. This approach is the best for delivering a well-designed website. Experienced developers work on wireframes and mockups first and only then get down to the actual product designing.
So, what's the total cost of a simple website designing, inсluding the time spent on research and wireframes?
| | | |
| --- | --- | --- |
| Website designing | Min | Max |
| Hours | 15 | 80 |
| Cost | $750 | $4,000 |
Front-end development
When designers finish their work, it's time for front-end developers to step in. Front-end part is what users interact with, e.g. dashboards, buttons, forms, and other elements.
The most time-spending tasks during this stage are website adaptiveness or responsiveness designing, and animations. Moreover, front-end developers usually require QA testing to check if everything is working as planned.

The total price of front-end services depends on the level of the developer, hiring option, tools used, etc.Here's our rough estimation of a landing page front-end development.
| | | |
| --- | --- | --- |
| Frond-end development | Min | Max |
| Hours | 20 | 250 |
| Cost | $1,000 | $12,500 |
Back-end development
Back-end development may take as much time as both designing and front-end features implementation combined. Otherwise, all visitors get will be a pixel-perfect design and no interaction results.
Back-end developers are engaged in creating the logic behind website features. For example, a front-end specialist may create a form for customers to fill while back-end developers write the lines of code that make the 'Complete' button work.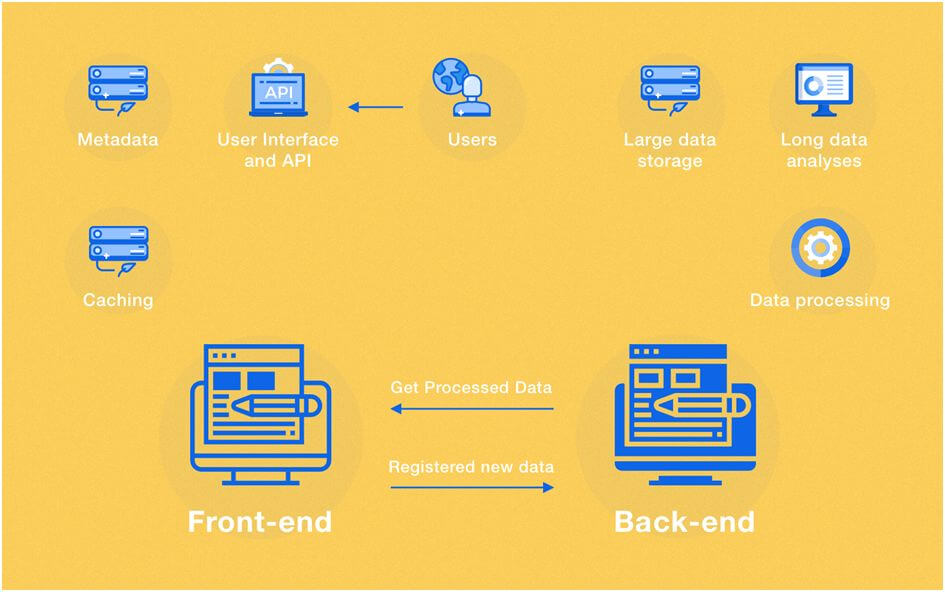 The most time-consuming tasks for back-end developers include:

Third-party services integration
Data processing tasks (e.g. working with video or audio content)
Complex queries
We provide an estimation of simple website back-end development:

| | | |
| --- | --- | --- |
| Back-end development | Min | Max |
| Hours | 80 | 250 |
| Cost | $4,000 | $12,500 |
Additional website development costs
In addition to the actual development services, there are a few other expenses you'll face.
1. Domain name registration
A domain name is a uniques address of your website, e.g. google.com or netflix.com. In order to access specific websites, users enter the domain into the address bar of their browser and are redirected to the site.
Domains can be registered via specialized services, however, the registration of .com, .net and many other popular extensions is not free. That's why you should consider adding another $10-20 for your future domain to the list of expenses.
2. Choosing a hosting plan
Hosting expenses is another point that cannot be skipped. Hosting keeps your website accessible worldwide, defines the loading time and is often responsible for possible downtimes. Thus, it's important to choose a reliable hosting provider with an efficient support center in order for your website to work flawlessly and be online 24/7.
Hosting prices usually start at $30 and reach $200 per month.
3. Website maintenance

Just like any other mechanism, your website code should be checked and double-checked to make sure everything runs properly and visitors won't experience any bugs or performance issues.
The average cost of website maintenance starts at $500 and may reach $12,000 per year.
As you can see, the whole development process greatly depends on website objectives, designing, and features implemented. The prices we provided reflect the average costs of web development services. However, if you want to create one, it's better to work on its detailed description in advance so that the specialists you're hiring could start the process earlier.
Sergey Lypchenko is a technical writer at Cleveroad. It is a web and mobile app development company located in Eastern Europe. Our main goal is to develop first-rate and competitive software for our customers. My mission is to provide people with interesting material about innovations in the world of IT.
https://twitter.com/LypchenkoSergey