Are you planning to update your workspace? Are you looking for office on rent but need clarification as to how much space you really need? Well if these are your concerns, this article is here to your rescue!
Finding a workspace is a tough job, but deciding on the size of your workspace is a much more tedious task. Before you start your hunt for managed office spaces, deciding on the size of your workspace should be your first step. Depending on the size of your office you can plan out a budget and give an estimated specification of your requirements to your agent.
With advanced technology, you can build your virtual office space in just 5 minutes! This feature provides you with the option of designing your office layout while also helping you estimate the size of your office.
Image Source: Phi Designs
Although coworking spaces provide you with the ultimate solution in determining the size of your office space, here are some additional tips that you can use to build your dream office!
Estimate the space you will need
Now determining the exact amount of space for your office is an impossible task, however, making an appropriate estimate is a viable option. But, how do you do that? The answer is simple before you start looking for offices to rent online, make sure you have the answers to the following questions:
What is the strength of your company?
What kind of office layout do you need?
Do you plan on expanding your business in the upcoming years?
How many remote employees will you have?
What is your overall budget?
What is the strength of your company?
Before looking for managed office spaces, knowing the current number of employees, as well as the estimated number of employees you may hire in the future, is crucial. Ideally, the average workspace should have 120 square feet per employee, therefore before you sign the lease when renting your brand-new office space make sure you have a rough idea of the total strength of your company.
What kind of office layout do you need?
Are you planning on having individual cabins for each employee or are you thinking of having an open space where multiple employees are assigned an individual desk, much like a call center? Depending on these preferences the size of your workspace will be determined.
Usually, most companies opt for a combination of both the open space plan as well as private cabins but these requirements differ from company to company. In addition to this having a basic plan of your office layout will further help you decide on how much workspace you would need.
You can decide on the space that would be occupied by the cafeteria, reception area, conference rooms, private cubicles, and various other additional workspace arenas. To give you a clearer picture, we have provided estimated numbers that each of these spaces would require:
Cafeteria: 75-76 sq feet per person
Reception area: 80 square feet per person
Conference area: 30-40 square feet per person
File rooms: 100 square feet
Private cubicles: 30-40 square feet per person
Restrooms: 55 square feet for one seater
The above approximations would work as a guide that will help you plan out your office space. Thus, before you check out for managed office spaces and look for office on rent make sure you have these numbers in mind.
Do you plan on expanding your business in the upcoming years?
Nobody knows what the future holds, however having a definitive vision for your future is never a bad idea, and the same goes for your company. You've decided on finally updating your workspace and have started looking for listings of offices on rent online, but you have no idea about your company's future goals and vision. This will leave you more confused and clueless especially while deciding on your office size.
Thus it is very important to have a basic idea of how many employees you will be needing in the future, and how much your company's estimated profit will be in the future. With this information in mind, you will be able to figure out how much you can spend on the rent of your office.
How many remote employees will you have?
It has been mentioned multiple times in this article that before you look for managed office spaces, make sure you know the potential number of employees in your company, however, it is also mandatory to determine how many of them will be physically present in the office and how many of them shall be working from elsewhere.
Remote employees are those who are not physically present in the office, they rather work from the comfort of their homes, thus you need not consider the number of remote employees while deciding on the size of your company.
What is your overall budget?
Now that you have the answers to all the above questions that will play a crucial role in determining the size of your workspace, we come to the final and most important question which is your overall budget. Your budget will be the deciding factor in determining the size of your company.
If your budget is on the lower end of the spectrum, then you may consider opting for an open-space office. This type of layout is best suited for companies with a limited budget range, with this you will be able to fit in more employees in a much lesser area. On the other hand, if your budget is on the higher end of the spectrum, then opting for an office layout that is a combination of both will be ideal, as the workspace will be more comfortable with the optimal amount of workspace for each employee.
Alright now that you have tackled the most excruciating part of selecting the right workspace of optimal size, in addition to these, there are still certain things that you need to remember which will further help you in deciding the size of your office.
Company work culture
You may think that your company's work culture would not play a very important in determining the size of your workspace, but in actuality it does.
Knowing what kind of work you are going to do in your workspace and the kind of work culture your company has will decide whether to have an office space which extremely spacious or not.
For example, if you are planning to have a company that is more or less like a call center then you need not have a very spacious office. However, if your company is one where a lot of areas are required for the storage of products then having multiple storage rooms is necessary. Furthermore, if your work comprises of having major equipment and filming rooms then additional space needs to be allocated for such types of companies.
So work culture plays a huge role when selecting an office size ideal for you. Therefore, don't forget to mention your work culture to the team as they will curate the perfect managed office spaces tailored for you!
The kind of staff recruited
Now you may be wondering, why does this even matter? Well, the answer is simple, people holding different positions in the company will be allotted different spaces and areas. The cabin space for each employee at a specific position will determine how much space will be allotted for each of them.
Thus knowing the type of employees recruited in addition to the number of employees will help you determine the size of your workspace thus making the hunt for managed offices easier.
Calculating the size of your office
Image Source: DevX
we cannot determine the exact size of the office beforehand, but close approximations can be made. Thus having a rough idea of the size of your office space is possible.
Now there are certain free office space calculators online that can help you estimate the size of your office, but we highly recommend you opt for experts as they will provide you with a more accurate and legitimate result.
So, here was your ultimate guide on how to determine the size of your office, but you may ask why is this even necessary. Well, the advantages of knowing the size of your office space are many some of which have been mentioned below:
Enhanced productivity
Systematic work culture
Improve employee satisfaction
Physical perception of a brand
Check on expenditure
Enhanced productivity
The productivity of employees is directly proportional to the maintenance and comfort of the workspace. Having a definitive idea about the size of the office will further help you design the layout that fits your vision as well as your requirements. Thus, all in all, we can say that knowing the size of your office space will eventually enhance the productivity of the employees.
Systematic work culture
Having a spacious workplace with the proper allotment of space for individual employees is a great way to inculcate a systematic work culture in your company. Lack of planning and cramped workspaces will only lead to confusion, which will eventually lead to stress and a disorganized work environment.
Now it is to be noted that it is not necessary to have an extremely spacious workspace for an office to be well-organized. Professionals can help you design a well-planned workspace that is both systematic and efficient even if your company space is limited.
Improve employee satisfaction
This one is pretty obvious, having a well-organized and systematic workspace is every employee's dream and you can convert this dream into reality with managed office spaces. So, having a well-equipped and perfectly sized workspace will not only increase the workforce but also keep both you and your employees satisfied. It's a win-win!
Physical perception of a brand
The physical perception or physical appeal of your brand plays a very important role in the marketing and standardization of your company. Be it, employees, visitors, or customers, your office's interior and physical appeal will leave an impact on them, thus proper office space ratio and sizing play a key role in building a workplace that is both innovative as well as modern, while at the same time catering to the needs of the company.
Check on Expenditure
While starting a company, paying heed to additional expenditures is very important since you wouldn't want to spend your money on unnecessary stuff. The same goes for your office space. It cannot be too small since you will not be able to expand your workspace later and it cannot be too large either since it would be a waste of money. Thus having an idea of your office size can help you build your desired office with minimal wastage of money.
Furthermore, proper planning goes a very long way thus having an estimated size of your office will help you be on track with your budget and also allow you to look for managed office spaces that will cater to your needs and that will also not leave a dent in your pockets.
The bottom line
In this article, you found out the benefits of estimating your office size while at the same time getting a well-defined plan on how to determine how much office space you would need in case you're looking for offices on rent.
Having an optimally sized office is crucial and by now I guess you would have figured out why. A well-spaced workplace is necessary for the health, safety, and welfare of the employees, thus it is the responsibility of the company to make sure that the office is of the perfect height, and has sufficient space and unoccupied areas.
With this article, we have provided a systematic road map on how to determine your workspace size and have also listed out the various benefits that come with it.
Hope this article will help you estimate the size of your office with convenience and help you build the office of your dreams!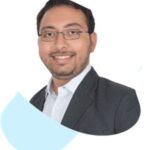 Parth Shah, a Co-Founder, COO of DevX accelerator has 10 years of experience in operations and training. Parth is a go-to person for his team and even a multitude of growing start-ups. His knack lies at spotting and supporting start-ups, helping them streamline their processes and even taking their ventures to the next level. After successfully establishing two start-ups and exploring the start-up landscape up-close Parth has learnt the nitty-gritty of the industry, which he now shares with fellow entrepreneurs.