Now a days, usage of mobile devices/hand held devices massively increased since last 3-4 years. If we talk especially about corporate culture, every employee/worker wants to be productive 24*7 and wants to contribute prominent role working remotely as well as on ground for the welfare of his/her company or organization.
As according to flurry's survey (ref fig 1.0) of which area of application were used by people across the globe growing year-over year and found Productive and Messaging application were the big hit during the decay as it will enhance their productive and save their time by using this apps.
Every employee wants to sync the corporate calendar so that they can't miss their business meetings, everybody wants read e-mails directly on their mobile device which enhance the need of mobility. Mobility itself defines as "Be available on mobile". As according to another survey by Flurry (ref. fig 1.1) employees are more focusing on working on PHABLETS (normally varies 5-7-inch screen diagonally) which allows them working on big screen normal then their own personal phone.
Now as every employee or worker using the company data (using email, calendar etc.) on their personal devices which will open the gate of data leakage or for the data security. Organization always be conscious about the data security which is available on the employee's phone or devices specially on emails or with any in-house application. There will always be a question how the data can be preventing by leakage directly from the mobile device? Resolution for this ask will be by using MOBILE DEVICE MANAGEMENT (MDM) Capability.
Leading Enterprise Mobile Solutions with follow latest trend of using MDM comes a set of now consideration for security, productive, data privacy, data management. MDM solution ensures the employee stay productive and does not breech the organization compliance policy. Seems basically organization need the data security on two use case or can say criteria:
Data available on in-house application.
Data available on business app.
Data available on in-house application: Every organization provide the access of mobile based application which is created by their own development team. These set of application carries lot of confidential data into it which can be crucial for an organization and which needs to save for leakage. MDM solution helps organization to save the data available on self-created app.
Data available on business app: In order to access email, employs were using many of mail application such as Outlook, BlueMail etc. Organization also wants to save the data which is available in email content in the form of attachment, mail body or link. MDM helps organization to save the data again on those set of business or productive apps.
In a very short period of time MDM (Mobile Device Management) /UEM (Unified Endpoint Management) solution evolve immensely, initially it only covers the range of mobile devices but now a days you can also manage your system or the desktop running with Windows 10, Mac OS etc (i.e. Which is modern PC management). This approach forcing employee towards Bring Your Own Device (BYOD) concepts. BYOD will allow users to use their own device by applying the organization policy on the top of it.
MDM/UEM solution help organization to manages the systems, hand-held devices as well as the mobile devices from the single management console which provides functionalities such as device management, email management, application management, browser management, software patch management, security policy implementation, software upgradation etc.
Major of the dominating player in the UEM (Unified Endpoint Management) market are IBM, VMware, Microsoft, Citrix etc. As according to the Gartner report 2018 (ref fig 1.3) this year 5 leaders in UEM are VMware, Microsoft, IBM, BlackBerry and MobileIron.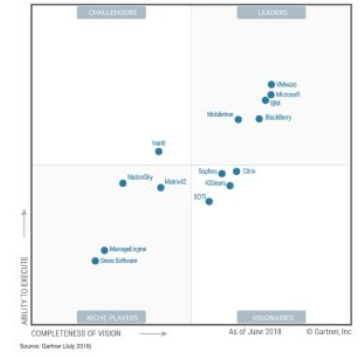 So, in order to make complaint and secure device environment, most of the companies are moving towards modern workplace or modern management where they will not to worry about data leakage and for the centralize management of all the range of the devices irrespective of the location, user, and type.
Mobile apps developer and technical writer at Nex Mobility for more than 7 years. I have a professional development team for Xamarin, Android and iOS apps. We are also providing best outsourcing services and give end to end solution of aaps programming.