Instagram has taken the world by storm. It seems like everybody is on this social media platform to post pictures and scroll through their personal feed. Not just that, Instagram has turned into a venue where people can participate in discussions, post stories and GIFs to attract more followers. Even content marketers are active on this popular social media platform to get more followers and drive traffic on their website.
Having a content marketing strategy exclusively for the Instagram page is a necessity. The more your brand gets noticed on Instagram, the higher will be the number of followers who shop from your website/store and contribute to the increasing revenue.
#1 Show the Usability of Your Product/Service
Instagram is an ideal platform to convey the value of your offerings to the targeted customers. Add more photos and videos on your Instagram channel, which revolves around the many uses of your products or services. A brand that does this particularly well is Chambord. This niche liquor brand relies on fresh creatives to break through the competition and gain traffic even without any significant media budget. Through their content, they try to educate the audience about their products in a whimsical manner. Owing to which, they had more than 7000 followers on Instagram in the first few months of starting up, and the number is increasing every day.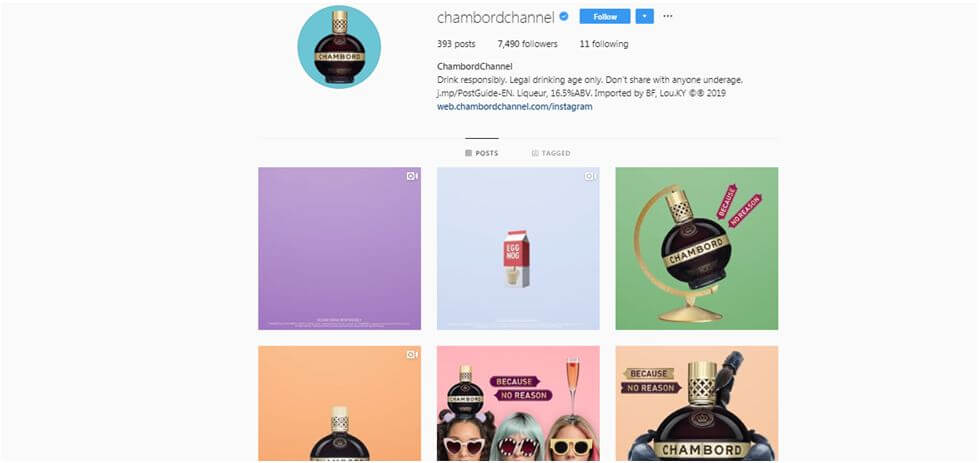 #2 Leverage User-Generated Content
According to Crowdtap, millennials trust user-generated content more than the material provided by any brand. The shift is from brand-generated content to the user-generated content and you can use this trend to improve your marketing results on Instagram.
Try activities like asking people to post a text or image with a powerful hashtag and post them on your page to get more traction. At the same time, ensure that sharing text and images proves beneficial for the users. One of the best ways to reward their efforts in writing something for your platform is to give them a shoutout, following them back or sharing exclusive coupons with them.
#3 Practice Storytelling
Storytelling is one of the best ways to build connection with your customers. When your audience connects with your posts emotionally, they get genuinely involved with your contests, how-to articles and product-related updates. Hard to believe this? Here's an example: Air New Zealand is one such brand that builds connection by telling stories about their services that connect with the heartstrings of audiences. In spite of not being the cheapest airfare in the market, they draw the attention of their target customers with in-flight safety video and other user-generated videos.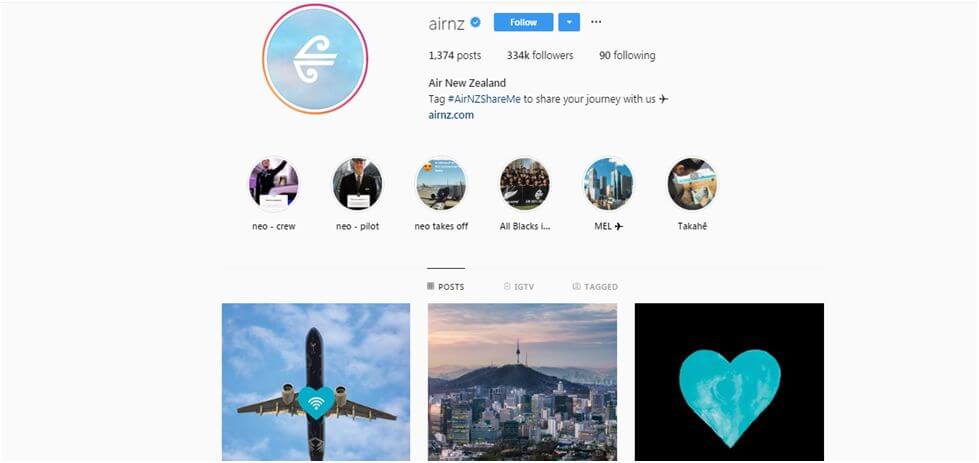 #4 Schedule Posts to Avoid Any Gap
Instagram has collaborated with Hootsuite to allow businesses manage multiple Instagram accounts with ease. Now, you can post and manage large volumes of content on Instagram with the use of this automation tool. With the help of social media dashboards like Hootsuite and SproutSocial, businesses can analyze metrics and insights about their Instagram performance. These platform also allow features to moderate comments and add response to different business mentions.
#6 Use Instagram Ads
You can run different types of Instagram ads like photo ads, video ads and carousel ads along with slideshows and story ads to take users directly to your landing pages. The best way to highlight your range of products is to run the carousel ad. Another smarter way to generate traffic on your website through Instagram is posting videos and images in the Story section. Some of the supported 'call to action' buttons for Instagram ads are Apply Now, Book Now, Contact Us, Call Now, etc.
#7 Partner with Influencers
Influencer marketing is paying off well for brands in today's time. According to the Tomosonstudy, every dollar a brand spends on influencer marketing results in revenue as high as six times.
As influencers carry a lot of clout, content marketers are relying on them to reach the masses and acquire valuable opportunities. Instead of one-time associations, brands should eye for long-term matches. When an influencer stays with your brand for a long time, his or her name becomes synonymous with your brand. And their followers start associating with your brand automatically.
#8 Track Your Metrics
Influencer marketing is undoubtedly a proven strategy to get more exposure and drive organic conversions for your products. There is a direct link between influencer marketing and sales conversions. By tracking the right set of metrics, you can track the progress of any campaign and gauge the performance. Further, by knowing about impressions, clicks, conversions, or sales generated through a campaign, you can grow at every stage. Based on the metrics, you can incentivize and monetize influencers as per the results they are deriving. Also, there will be more transparency in the process and you can get better results from influencer marketing campaigns.
#9 Mix Up With Different Formats
For keeping your marketing content fresh and interesting, it's important that you try different types of content format on the Instagram platform. From live videos to carousal content, inspirational posts, humor and the latest trends, you can try different content styles to build a connection with your followers. Also, different types of content will work differently for your followers at certain stages of the customer lifetime. For instance, a product video will help you attract more interested customers, and case studies will help your customers make better choices at the consideration stage.
#10 Post at the Right Time
Do you want your post to be on the newsfeed of your followers consistently? That's understandable. Just ensure that you don't end up over posting. If your followers see your posts on their feed every time, they are likely to unfollow you. No one wants their news feed to be spammed by posts from a single brand.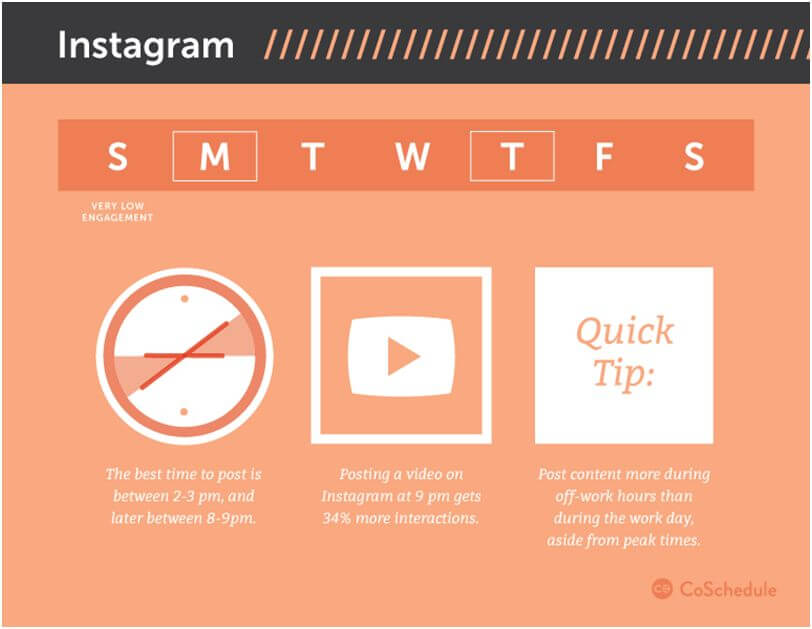 According to CoSchedule, it's ideal to have 1-2 posts in a day at the time when your followers are the most active online.
Most Importantly, Make Sure You Have an Appealing Brand Bio
A good Instagram bio can help accomplish several goals simultaneously like conveying what your business does and helping customers explore your offerings easily. Keep your bio crisp with the nicest choice of words to convey your company's USP convincingly. An appealing brand bio can go a long way in prompting customers to visit your website and shop more.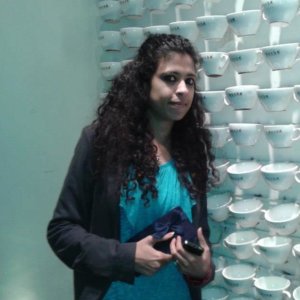 Kalpana Arya is a passionately vociferous writer who eats, drinks and sleeps words. Always keeping an eye on and animation technologies, she shares in-depth insights with here readers. She's a published writer whose articles have found home at Tweak Your Biz, Business2Community, ITProPortal and iamwire.