New Year heralds the message of new beginnings. As you are on the lookout for new solutions and possibilities to help your business grow in 2019, you have to prepare to try new things, test different messages and platforms, and new design trends. You have to find the right combination of marketing channel, marketing message, and timing to reach the right audience. While implementing these, make sure that all your efforts are focused on implementing new design trends to your website as your website voices out your brand identity, products, and services.
Though the market is getting clogged with ultra big picture trends and graphics like a smart design for virtual reality, you have to take the time to see the necessary design elements that you may have to implement into your design strategy to make your website even with everything on-trend.
From image trends to innovative e-commerce functionalities, to vibrant color codes, here are three top web design trends to help you with competitive web designing this year.
1. "No-Image" Design Above Scroll
The no-image above scroll design style has been a common design for websites under construction. However, this design is not only reserved for such sites. It is now trending for website designs that do have a lot of images related to the various products and services.
This design is very effective when you need to convey your core message or the value proposition of your business. This design works best to convey the right message without being overwhelming. You can make this work by pairing a no-image design with an attractive font style and vibrant color choices.
This design works best for creative industries like fashion where these design aspects can make the website stand out as a unique work while garnering visual interest to the message displayed.
Other tips to go along with the No-Image above scroll design:
Use a strong serif-sans serif typeface
Use a bright colored background.
Use an animated scroller on the homepage.
Make the "No-image" design alternate between image and non-image rows
Use simple serif in the middle of the screen to attract user attention.
Place a call to scroll, where there is more color or other shapes
Use a minimal approach to the design.
Try oversized sans serif font on a black background
With this design, there is no way that your website will go unnoticed. This is an ideal design that makes the scroller more visible.
2. Go For The Brilliant Blue
It is not new that bright colors are trending. But the difference is with the hue that could take you by surprise. Bright coral was made the official Pantone color of the year. But the bright blue is now trending.
Bright blue backgrounds, fonts, and overlays are seen everywhere. The bright blue color with its origin from the design palette is a very cheerful color tone that works with almost any content and font style.
There are several reasons as to why Blue is one of the most used colors. It is opted because of its close representation to being trustworthy and pleasant.
This bright blue color has become part of this year's website design trend as it is also easy to use. Designers don't have to struggle with a complicated color palette to find ways to incorporate bright blue into the web design. It is very easy to sneak it in for different accents.
Another advantage is that projects can be added easily without a lot of additional work and without compromising on maintaining a modern flair.
A few blue color tones to inspire you:
Use a bright blue with a slightly purple undertone
Use plenty of bright blue shades on the homepage with purple hues and bright sky blue tone
Try navy blue with a brighter tone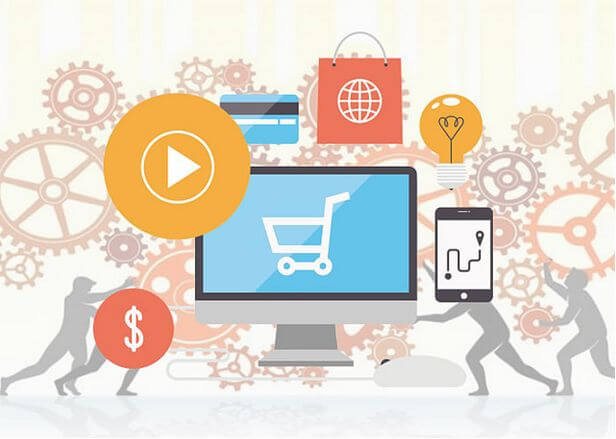 3. Content For E-Commerce Web Design
E-commerce sites solely depend on content as far as online sales matters. This might be an upgrade as a design trend from social media or even it might be something to try out that is a lot more interesting. Today, e-commerce websites are using site architectures that just look like pages of products available for sale. They use an integrated form of content, featuring the products along with a call to action button to place an order.
This is an excellent design for lifestyle-based e-commerce sites that use some sort of regulations to sell items. You need to invest your time in designing a site based on this concept. But it is definitely worthwhile and very rewarding and effective with operating in a new customer base.
E-commerce sites that use more content to portray their products and services tend to be lifestyle brands such as clothing. Though these products don't require a lot of content to explain, it is necessary to integrate the products into the design rather than displaying as lengthy contents. Shoppers are aware of what size of clothing they wear. It is all about triggering an urgency to make a purchase. The key is making a web design that associates with the brand in every way.
This is a design trend that serves as a great way to develop a strong relationship with customers. It is a major marketing concept among young shoppers who are on the lookout for something that is out of the ordinary. Web designers need to commit both time and resources to build competitive e-commerce projects through this effective design trend to reap desirable benefits.
From the depiction of brands through brilliant colors, proper usage of images to e-commerce that looks like content, these are the top three most used design trends that you should consider for immediate implementation in your web design strategy to be successful this year. There are a lot more than these to upgrade the capacity of your website. But these are the basics and are effective in transforming your website to a new level for more sales.
Growing a business is not just taking a huge leap that changes everything. It is about making incremental progress by staying focused and doing the right things. Invest in the everyday process of building customer relationships and doing your research to discover what is new in terms of website design so that you can stay up to date with the evolving design trends without being left behind.
Madhumitha is a freelance content writer,
copywriter, and editor who specializes in blogging, technical writing, and
website contents. She is a regular contributor to Abi-Tech, a Web Design and
Application Development company, writing informative contents on
cutting-edge technology and trends on web app development.