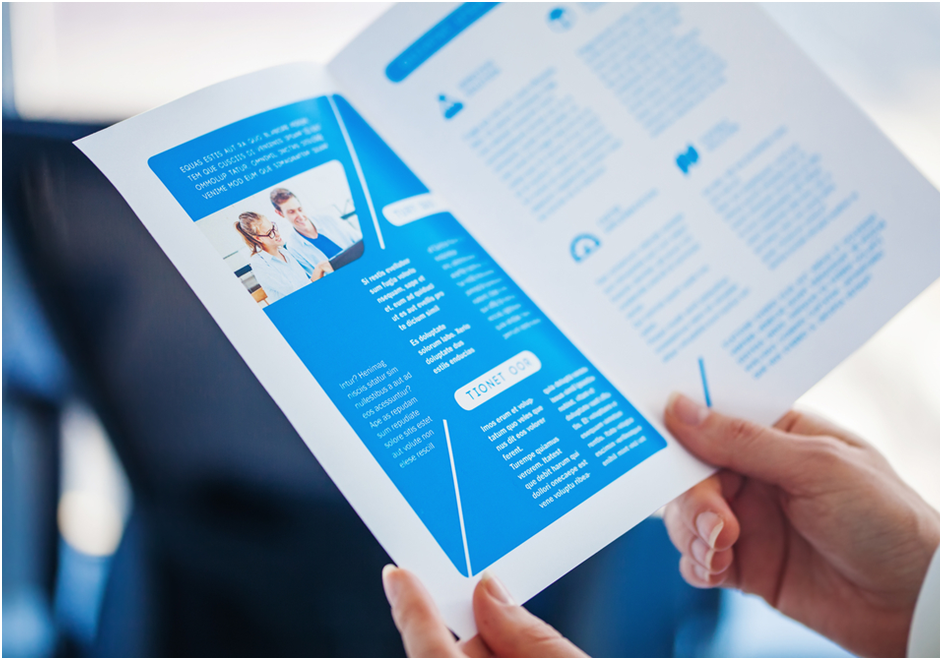 Every business, no matter the size, needs effective marketing tools to help grow its customer base. Brochures are a great marketing tool because they allow your business to share important information and key services in a friendly, non-salesy way. A well-designed brochure attracts readers and helps you increase your credibility. The brochure should teach audiences about your business and prompt them to take action.
The right brochure design can make or break its success as a marketing tool. Every detail matters, from the copy and images to the paper and printer supplies used. It's important to create a brochure with useful information so the reader will want to keep it and refer back to it.
When readers see how helpful your business is, they're more likely to become customers. Use these design tips to help create an effective brochure for your home business.
1. Establish Your Purpose
Every brochure has a purpose and objectives it should help your business achieve. Your first step is to identify what your goals are for this brochure. You have to know who you're designing it for and how to distribute the final product.
Ask yourself questions like:
Is this brochure for my entire audience, or am I targeting a specific group?
How does my audience affect the copy and images I need to use for my brochure?
Will I distribute my brochure by mail, by hand or in other places of business?
Where should I distribute my brochure to reach my target audience?
You also need to establish the results you hope to achieve before designing your brochure. Are you looking for more clients or customers or just trying to increase your brand awareness? Your brochure information and design will differ if your business is new and looking for recognition versus an established business.
You may want to offer incentives in your brochure if you're trying to attract new customers. You won't make an effective brochure unless you understand its purpose first.
2. Have Your Copy and Images Ready
You'll be able to develop the messaging and images for your brochure once you establish its purpose. Your copy's tone and language should meet your objectives and be appropriate for the audience you're targeting. Make sure the images and artwork you intend to use are high resolution because lower resolution images can look washed out and unprofessional once they're printed on a physical brochure.
Too much copy in large blocks can overwhelm your reader, so include only important information that's easy for your reader to scan through. Use headings and subheadings to break up your text and add structure to your information. Consider using bullet points or numbered lists to help you get your message across to readers quickly.
The length of your copy and the number of images you use affects your brochure's layout, formatting and length. You can't design your brochure without having your images and copy ready.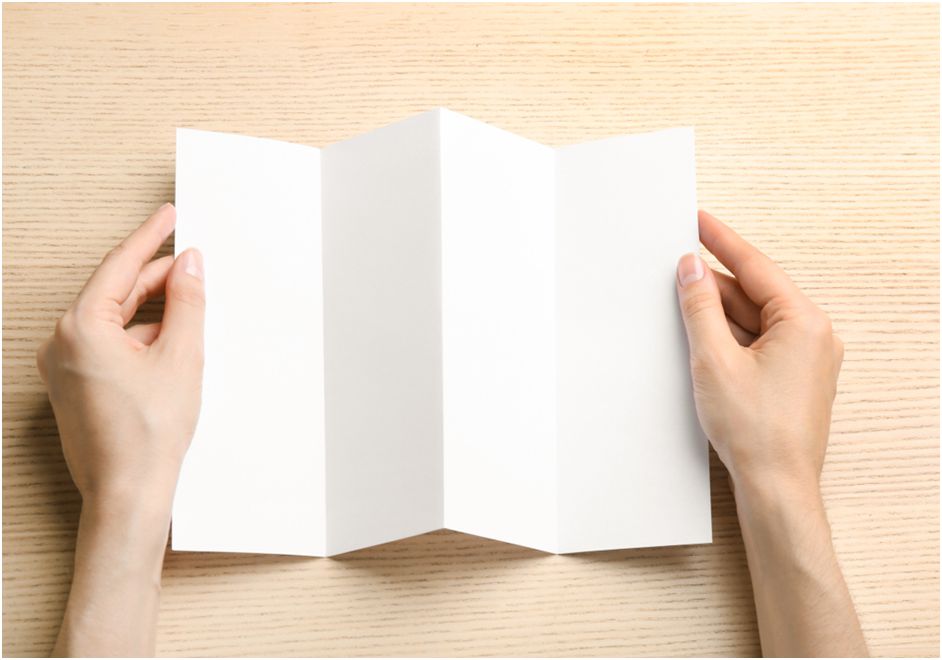 3. Know Which Folds Work Best
Brochures come in many sizes and designs, so you'll have to figure out which type of brochure fold is right for you. Your fold choice should complement your copy, so base your decision on the length and layout of the information you want to share.
Bifold brochures have a cover your reader will flip open to reveal information inside over two panels. You can also print information on the back panel.
Trifold brochures have three panels that unfold separately. You can use each panel to feature different information or span text and images across them. Trifold brochures are popular with businesses because they allow you to display critical information about your business alongside testimonials and images.
4. Choose Your Fonts Carefully
Fonts can make your brochure easier or harder to read, depending on which style you use. They also help set the tone of your brochure. Select the font for your brochure carefully and make sure it's easy to read in a small size.
You may want to choose up to three fonts, one to use for your headings, another font for your subheadings and a third for the rest of your text. You can use typography and font pairing tools to help you choose the fonts that work well together in your design.
Your font styles should be in line with your business's branding. If your company uses specific color themes or fonts, use the same ones in your brochures. Your readers and customers will recognize your business more easily when you promote your brand with visual consistency.
5. Be Creative and Original in Your Design
No one wants to look at a boring brochure. Explore what other brands are doing to get inspired for your own design. Differentiate yourself from competitors with bold features and copy that is original to your business.
Add in pops of color, engaging headlines and high-quality images to your cover to catch your readers' eyes. Be creative in your design, breaking up text with white space or graphics. You can even use testimonial quotes or images to reinforce the message of your brochure.
6. Have a Clear Call to Action
Your call-to-action (CTA) is one of the most critical parts of your brochure. Your brochure's purpose should always include an action you want your readers to take. Your CTA is a clear statement instructing readers what to do next, whether to buy your product, make an appointment, visit your website or use a discount you offer.
Your brochure's CTA needs to be highly visible. Use a larger-sized font and make sure there is plenty of whitespace around it to help your CTA stand out. Adding incentives like discounts, or urgency like time-limited offers, can help make your CTA more effective.
7. Select the Right Paper and Ink
The supplies used to print your brochure are just as important as the design. The paper stock and coating choices influence the readers' perceptions of your company. Heavier paper stock costs more but produces more professional-looking brochures than lightweight paper.
Adding a matte or glossy coating to your paper is common and makes your brochure look more upscale. Coating the brochure protects the paper from smudging and keeps the ink from bleeding, making your brochure more durable.
Your ink choice also makes a big difference. You'll need ink that prints true to the colors of your images and designs. You don't want your bright orange-colored graphics looking more like burnt orange or red when they come off the printer.
Some inks that don't use enough color mixtures can leave photos looking drab or watered down. Make sure you're using ink cartridges that produce high-quality photos and images, like Canon ink cartridges, for your inkjet or laser printer.
Start Designing Your Business Brochure
With an understanding of brochure design fundamentals, you can create your layout with ease. Once you have your copy and images, look for websites that offer brochure design templates to see which type works best for your business. You can play around with folds, fonts and graphics to find something that makes your brochure stand out from the crowd.