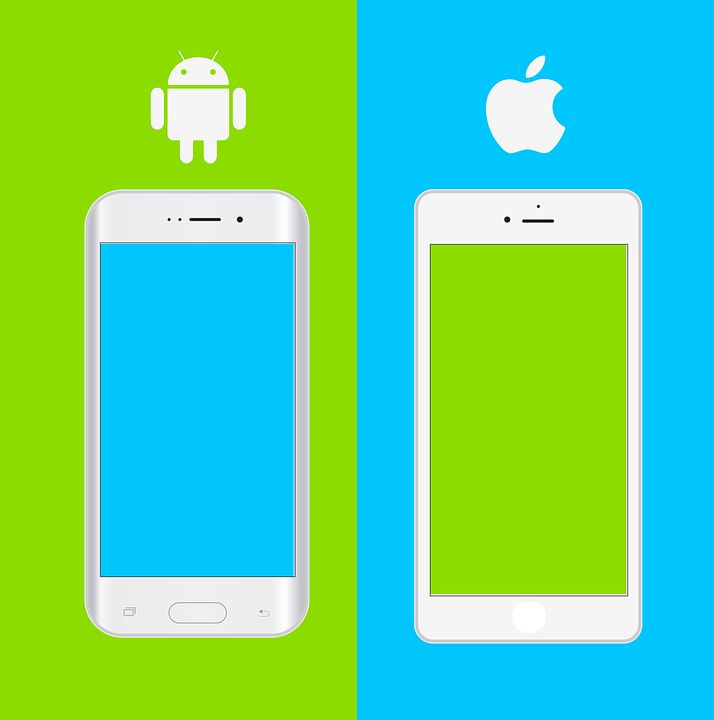 Mobile app development is one of the essential needs of any business. To get a better position in the competitive marketplace, lots of organizations have thought of creating a custom business app. Now, the question is- Should they develop an Android app or an iOS app for their business?
Moreover, both Android and iOS platforms have covered a significant share of the present global mobile market. Some businesses invest in responsive app design to make it perfect for any mobile platform. However, several companies have a focus on one of the mobile platforms to create their apps, depending on their target customers. Thus, we have helped them to decide on choosing a platform for their app development.
Market share of Android and iOS business app-
Every year, there is a fluctuation in the market. We have found some information on the market share of iOS and Android OS. According to market data, Android is enjoying a market share of 74%, whereas iOS has only 24% market share worldwide. Although the market share of iOS is stable, Android has experienced lots of developments and higher popularity in the past few years.
Business app development- Target audience from different geographical regions–
Android and iOS are the two most common platforms to most of the Smartphone users. Still, we have found that Smartphone users from Western Europe, Japan, Australia, Canada, and the USA prefer iOS. Similarly, the Android market gains profit in other countries, including Russia, India, South America, Africa, and China. So, depending on your target market, you can choose the app platform.
Demographics and audience-
In most of the developing countries, Android OS has turned out to be very popular. However, iOS is best for developed countries, where you can find high-income groups among Smartphone users. The adults ranging from 18 to 30 years of age are iOS mobile users, and they are mostly educated.
Now, as one of the corporate owners, you may have targeted both high-income and low-income groups. Thus, the best option for you is to create Android-friendly apps.
We have found more facts on iOS and Android users-
The iPhone and iPad users belong to the affluent group of the society, and their earnings are higher than that of the standard Android users.
iOS users are mostly younger, and their age ranges from 18 to 24 years.
Most of the female users prefer iPhones to Android.
Several Apple mobile users hold managerial positions and are highly professional.
In Australia and Western Europe, iOS has a leading market.
In the corporate world, iOS plays a vital role in a better level of security.
Several iOS mobile users use their Smartphones for making purchases. They also spend a lot of time dealing with apps.
Timeline for app development–
Do you have a very tight deadline for mobile app development? You must focus on this question to choose your mobile platform for business apps. Android app developer has found that he needs more time for app development. However, with minimal efforts, a developer can create iOS apps. Nevertheless, the timeline also depends on app complexity.
Kotlin and Java programming is best for Android apps, while Swift and Objective-C can be effective for iOS apps. It takes much time to create a business app for different Android devices. You can find Android mobiles of varied screen sizes and technical features. However, the best app developers can design an app that fits the mobile screen of any size.
Now, let us talk about the app approval. App Store can take a longer time for approving an app, as it has strict quality standards. Conversely, for Google Play Store, you can have the approval within a few days.
Features for your mobile app–
What are the potential features that you need to add to your custom app? As Android offers an open-source framework, it gives you an opportunity of customizing your app. Thus, you may ask your developer to integrate several functions and features with your app.
However, the open environment of Android increases the risk of malware and pirated apps. In this case, you can choose Apple as the most secure platform for the closed system.
Maintenance of mobile apps–
It is easier to maintain Android apps than that of iOS apps. You know that developers take much time to develop these Android apps. Thus, there is a minimal chance of crashes and bugs in your Android apps. However, lots of Android mobile users do not adopt the new OS. Interestingly, Apple users update their OS regularly to use apps in a better way.
Monetization of mobile apps-
You may have thought of monetizing your mobile. To achieve this goal quickly, you have to choose the right platform. Most Android users do not have an interest in paying for apps. Thus, you can find in-app ads in free apps. However, the App Store earns higher revenues, although the number of downloads is lower than that of the Play Store.
We have presented you with other interesting facts related to app monetization.
Lots of Apple mobile users look for in-app purchases.
They also choose paid apps from different categories. Android has several free utility apps.
In North America, shopping apps are highly profitable options. Mobile users from Asian countries invest much in in-app purchases. The revenue from the iOS platform is the highest in China.
Apart from in-app purchases and ads, you may choose premium models and subscriptions for monetization. However, to rely on these options, you can create Apple mobile apps.
The intricacy of your app is one of the factors causing a difference in the overall cost. While it is a bigger app size, you may need to invest more. Moreover, the cost can increase if you have targeted varied OS versions and devices. The app developers have to use more resources and time to accomplish these goals. Thus, you may not find much difference between iOS and Android apps development.
Still, we can find that iOS app development is a cheaper solution. Now, you can speak to your professional developers to know the pricing for mobile app development.
Which is a better platform for you?
Now, it is the right time to make your choice on mobile platforms for app development. You can ask yourself several questions. Like, where do your target audiences reside? What features do they need in the app? What is your budget and development time? If you are looking for the fastest development of MVP product, you may rely on a professional iOS app developer.
Similarly, for building an eCommerce app or for monetizing your app, iOS is the right choice. However, when you have a global target in Latin American and Asian countries, you can choose Android OS for your app.
Hiring the best developers is important for creating Android and iOS apps. The professional developers have technical skills for developing high-quality apps. They know about iOS frameworks and Android SDK for app development. Nowadays, there is a trend of creating cross-platform apps to reach several audiences at a time.
However, some users have found performance issues due to this cross-platform development. To avoid it, you have to rely on the best programmers from iOS and Android app development company.