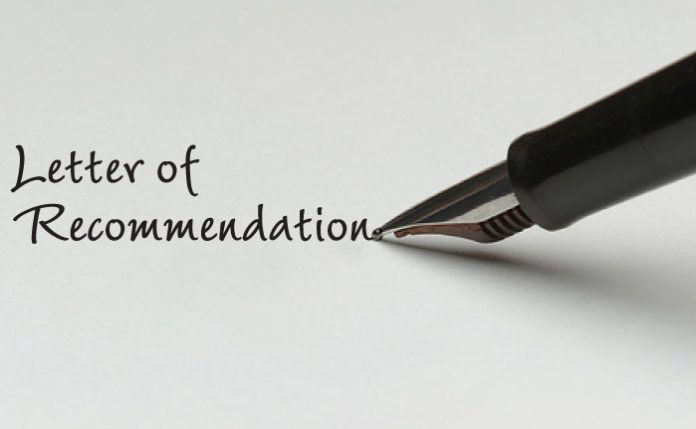 Image source: https://miro.medium.com/max/696/1*_oZ8-TIsHHWFoYboDyp34g.jpeg
Recommendation letters are used in everything from business marketing and sales to recruitment and hiring. They are used in academic study pursuits, arts promotion and many other professional industries such as law, medicine, migration and even sports!
Writing a recommendation letter seems straightforward but there are many important things that must be considered. A professional recommendation letter writer can draft a great letter for your needs. You can also write one on your own, if you follow the right steps.
In this blog, we share some great tips on recommendation letters and how to write a recommendation letter that gets results.
What Exactly Is A Letter Of Recommendation?
A letter of recommendation, aka letter of referral, is a document that offers an opinion on a person. The letter may be written specifically for a person/organization or for the wider audience. A general purpose recommendation letter can be used in multiple places.
The letter provides some background on the person's work, skills or attitudes etc.The letter outlines how the writer knows the person being recommended, and how he/she would be a good candidate for the new position.
Who Needs To Write A Letter of Recommendation?
If you are working in the legal or academic profession, you may be asked for a letter of recommendation from time to time. Higher learning institutes in particular ask for referrals from applying students. Teacher/supervisor recommendation letters are quite common in the academia.
Recommendation letters are also common in the legal profession. They are seen as a sort of character certificate for good behavior. Healthcare organizations also require recommendation letters from nurses applying for a role since this is a high-responsibility occupation.
Lastly, employees may also ask for a recommendation letter from their manager or colleagues. This is generally the case when the employee is leaving for another job or looking for a promotion within the organization.
The Structure of a Recommendation Letter
There is no fixed formula for writing a recommendation letter. How you write one really depends on your industry and the type of application being made. There are a few guidelines that can help.
For instance, suppose you are writing a letter of recommendation for your former employee John, who is applying for a new job. The letter would focus on his work at your organization and why he would be a good fit for the new organization.
The general rule here is to write the first paragraph on introductions. Briefly state who you are and person you are recommending (John in this case) for consideration.
In the next paragraph, introduce your position in more detail and how you know John. You can also give dates on when he joined your company and when he left, or if he is still working for you.
In the follow up section, outline John's skills, qualifications and work habits. Remember to keep the tone formal and neutral. If there is something praiseworthy you noted about your employee, then you can mention it here.
You can also note down any areas of improvement that your employee needs to work on. Make sure to discuss this with John prior to writing the recommendation letter. If you are planning to be too critical, chances are your employee may not want your recommendation.
This is precisely why most recommendation letters are positive. Applicants don't use letters full of harsh criticism. It is better to just excuse yourself from writing the letter, if your employee/student is not someone you hope to recommend.
Always end the letter on a positive note. A one-liner wishing 'John the best of luck in future endeavors'or that 'he will be an asset to the future employer' is the standard approach.
Make sure to sign the letter and give your contact details so that they can contact you for further information.
Here's a simplified format.
Start the letter with the recipient's name, title and organization. For general purpose letters, you can put in 'To Whom It May Concern'.
After the salutations, put in a brief introduction that covers who you are and why you are writing the letter.
Add an overview of the applicant. How you know them, how long you've known them and what relevant skills, qualifications they have that relate to the recipient.
Elaborate on the work ethics and study aptitude of the person.
Share a story that sheds light on one or two important traits of the applicant. While this part is optional, it can make a strong impact on readers as personal stories make the letter stands out.
Add a paragraph to summarize why the person would be great for the organization.
Sign the letter and put in contact details.
Writing Your Own Recommendation Letter
Here is a well known fact about recommendation letters in business organizations and academia. Most employees and students applying for a new job or course write their own recommendation letter!
After writing the letter, they submit it to their boss or teacher who signs it for them.
This is prevalent because academic teachers and professors get dozens of requests for recommendation letters each month. They simply do not have the time to sit down and write these letters.
If you are writing your own recommendation letter, you can use it to highlight the skills and qualifications you have covered in your cover letter and resume.
For example, if your resume outlines your analytical mind and ability to research, you can add a couple of lines in the recommendation letter about this. This can help emphasize the points you have made in the other documents and strengthen your chance of getting an interview.
If you are writing your own recommendation letter, ask some guidance from your boss or teacher. They are the ones who will have to sign their name on it,so do not put anything in the letter that they don't want to sign on.
Types of Recommendation Letters
Recommendation letters can be broadly divided into five types; Professional, Business, Academic, Rental and Personal.
Source: Shutterstock
Academic and professional letters are more common and tend to be quite formal. Personal endorsements are less formal in writing style. Rental and Business recommendations are mixed in writing style.
Professional Recommendation Letters
Professional recommendations are generally written by the manager for an employee. The letter may also be written by a colleague.
The letter is used to describe a person's qualifications, work skills and ethics. It outlines the employee's duration of work with the organization and the types of duties that they performed.
This recommendation letter is typically used for job applications and describes how the applicant would add value to the new organization.
Business Recommendation Letters
Business recommendation letters are client-contractor endorsements. They are typically written by organizational clients that hired a service provider and found their services exemplary.
The contractor can use these recommendation letters as evidence of good quality work in future business proposals and bids.
For example, a janitorial service engaged in a cleaning contract with a school may ask them for a business recommendation letter.
In most cases, the client is an organization. However, individual clients can also write business recommendation letters for their contractors.
Academic Recommendation Letters
Academic reference letters are used to apply for a higher educational institute. These letters describe a person's academic aptitude, knowledge and career goals. Many degree courses require a recommendation letter and these letters are a must for post graduate and doctoral research.
Academic recommendation letters can be written by a student's previous teachers, professors or their academic counselor. The focus of these letters is to present the student's learning ability and how he/she would be a good student for the institute.
Rental Recommendation Letter
Many landlords require a proof of good behavior from new tenants. Therental reference, typically written by the most recent landlord, describes how the tenant behaved while staying with the last landlord.
The letter covers issues like the tenants ability to pay rent on time, treatment of the property and attitude to abide by the terms of the lease agreement.
Personal Recommendation Letter
The personal recommendation letter is used in many areas such as club memberships, credit applications, new utility connections, local courts and immigration applications.
A personal recommendation can be written by almost anyone who has known the personal for some time. This letter describes a person's lifestyle, morals, values, and personality traits.
Tips for Writing a Memorable Recommendation Letter
The main purpose of custom recommendation letter writing is to make a strong impact on the reader and give the recommended person the best chance of getting selected. In order to achieve that, the recommendation letter must be inspiring, pique interest in the reader and present the candidate in a positive light.
A boring, custom-written recommendation letter fails to get the desired result because it comes off like a half-hearted attempt. If it doesn't resonate with the future employer or admissions committee, the applicant is unlikely to get a call for an interview.
Here are some tips for writing a recommendation letter that builds a strong case for the candidate.
The recommendation letter must be personalized for the recommended person. For example, if the person is good at socializing and leadership, give a couple of examples where they displayed these qualities at work or in class.
Refrain from overly exaggerating the skills and abilities of the person beyond belief. But do point out where are noteworthy.
In case of professional letters, the writer should review the applicant's resume so that it corroborates with the recommendation letter. For example, if the resume says that the applicant's expertise lies in technical skills but the recommendation letter doesn't highlight those skills, there will be a mismatch.
It can be very useful to make a note of the applicant's significant achievements at work or in class. For example, if the recommender points out how the person helped double the business sales in two years' time, it can make present them in a very positive light for employers.
Make note of any improvements that the applicant made over time. In case of an academic recommendation, you can note how the student lagged behind in classes at the beginning but put in extra effort during the course to finish at the top.
Keep the recommendation letter to no more than two pages. Most people prefer to keep it to one page. However, using a second page can work if you tell one or two good stories about the candidate's suitability for the new position.
Make sure to format the letter correctly. Good punctuation, grammar and vocabulary can establish the recommender as a serious and credible source.
Match the letter's tone to acceptable professional practices. For example, the tone must be quite formal when writing to a court of law. However, it can be more frank when writing to a private landlord for a tenancy agreement.
End the letter on a positive, enthusiastic note. Encourage the reader to consider the candidate for the position and offer ways to get in touch with you for further details.
Conclusion
Recommendation letters can significantly improve the case for an applicant. Whether you are looking to apply for a new job, enroll at a higher learning course or just want to apply for credit, a well written recommendation letter from your supervisor and colleagues can significantly boost your chances for success.
If the person is too busy to write the letter for you, ask them if you can write the letter yourself and whether they'd be ok to sign it. Most people are happy to help so don't hesitate to ask.
If you are struggling to write the recommendation letter then you can also find a professional recommendation letter writer to do it for you.
Steven Dean is a Sr. Editor at Content Development Pros, who works with a team of experienced writers to create SEO optimized custom content for large and small companies alike. Steven's team provides complete end-to-end content solutions, including content writing services, custom recommendation letter writing, web development and design, SEO optimization and content curation and creation.