If you are embarking on a startup for the first time, then you may feel a bit overwhelmed with the different aspects like business planning, incorporation and business finances. But have you ever considered whether your workplace is affecting your productivity or not?
Most entrepreneurs choose to run their business from home, especially startups. A comfy old couch with a table in your garage may seem like a comfortable way to start a business. Imagine a virtual business address with people where diverse groups of remote workers, freelancers, app developer, and other independent professionals work together in a shared, communal setting. These kind of places are known as co-working spaces.
Co-working spaces have emerged as an alternative to the traditional and secluded office space among business owners and startups because it relieves tension of starting a new business by providing flexible workspace, scalability of size, and networking opportunities to facilitate growth at affordable prices.
These spaces also offer the chance of choosing a "hot desk," (use whatever desk is available) or pay a little more for your own desk. If you're a freelancing professional or owning a start-up and don't mind sharing a few office amenities with other entrepreneurs, then a coworking space could be a reliable option for your startup.
Here are some of the reasons that heading to a co-working spaces can make sense for many entrepreneurs to increase productivity and credibility.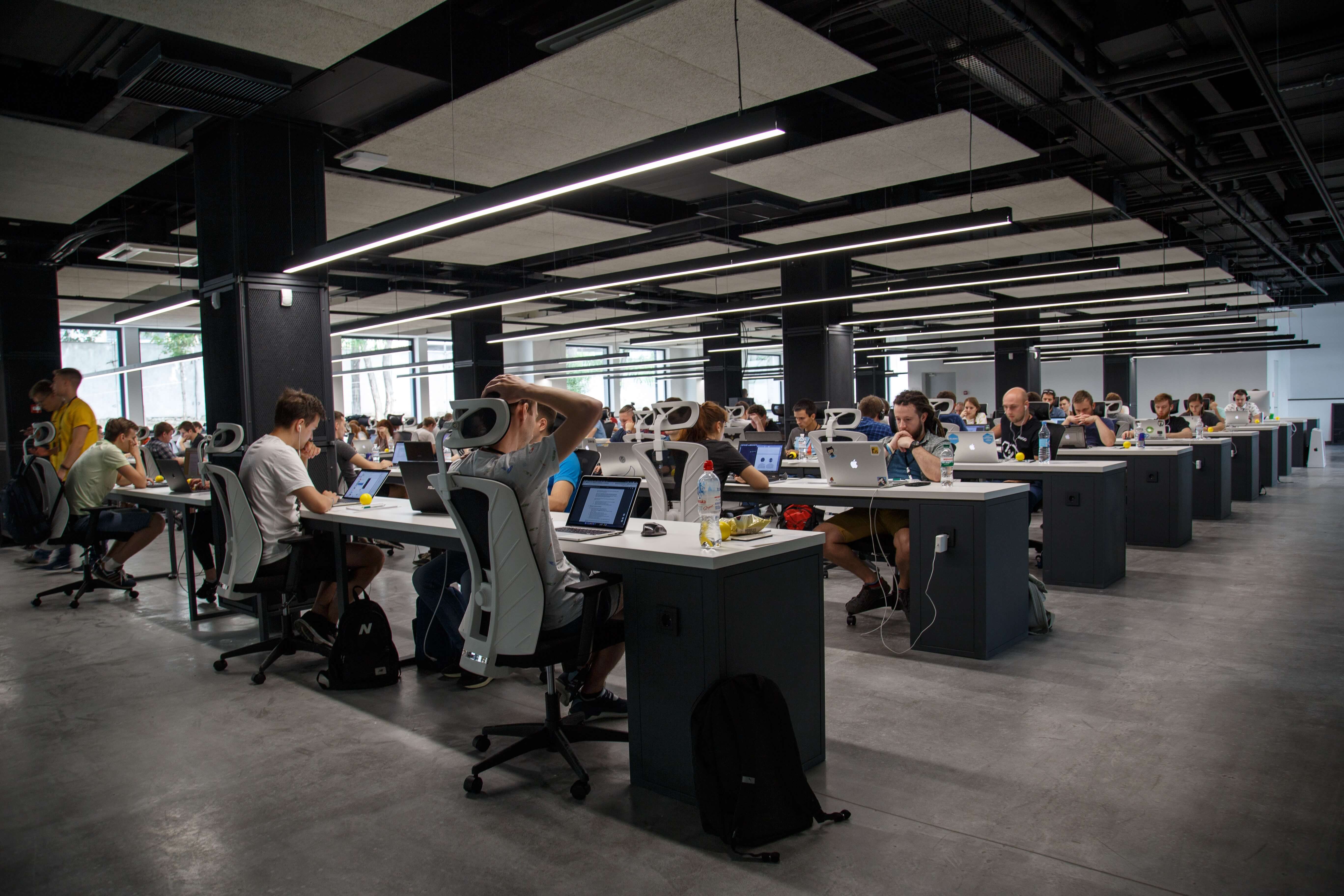 Opportunity to network
The first and foremost reason for working out of a co-working space is the connections you can make with new people. Networking is the key to the success of the business, and you can do better with co-working spaces. Groups of small businesses, freelancers, and entrepreneurs utilize co-working spaces, so there are plenty of opportunities for meeting new people building their business.
No other place offers the environment to meet other entrepreneurs across industries with a variety of skill sets, which co-working spaces provide to business owners. By connecting with all kinds of people, you can always dig out potential business partnerships or even engage your first client.
As a matter of fact, being an entrepreneur is all about a learning curve, and the speed of your business success is restricted to the rate in which you learn while starting and operating a successful business entity. Having access to meet new people and by communicating your day-to-day challenges with them always play a vital role in the growth of a business.
Most co-working spaces also encourage their members to host events related to the issues of market analysis, branding and in showcasing their skills and experiences.  This way startups will have experienced community managers on hand to help them with everything for running a successful event.
Access to a lot of business-based advice
Growing a startup or being a freelancer isn't usually a profitable activity, at least in the beginning. You will encounter numerous hurdles you had never considered before. However, co-working spaces can present a perfect opportunity to get advice on your startup. First, many virtual business addresses are operated by a team of enthusiastic and professional managers who can point you in the right direction, help you in thinking through logistics and offer some advice.
Second, you would have access to a community of co-workers with varied skills and experiences that can help you in framing tricky business problems. You can also learn from other entrepreneurs that have tackled the same challenges while operating their company.
Most co-working spaces are also set up as incubators and accelerators; an accelerator offers rapid-growth tools for more established companies, and an incubator specializes in growing a new and early-stage startups. Both can be medians for information on how to improve your company, depending on your business's needs and development stage; whether it's finding a mentor for solving tricky problems or applying for funding.
Flexibility and Cost-Effective Solution
The third reason for considering co-working spaces for your business is because of its flexibility regarding ambiance and work-environment. Flexibility is key to co-working spaces. As a matter of fact, office addresses are required to provide an ambiance that encourages business owner's skills and creativity. Hence the freedom of a co-working is what seems to be appropriate for many startups.
You can use these spaces as per your need for a day-to-day, month-to-month or year lease basis. You can also rent meeting rooms when you need to talk to your clients. While conventional office addresses can be the solution for your business needs, they usually require a long-term financial commitment. However, virtual offices are free for your business as it grows and changes.
With no long haul rent to sign, you'll be allowed to deal with your cash correctly and  with furniture like a bean bag and headphones for music, one can comfortably relax while scouting brilliant ideas for their startups. So, you and your startup can choose to work at your collaborating space in the workplace measure you'd like.
Improved facilities for your local coffee shop or home office
While working from a local coffee shop or home office can be a lot cheaper with free Wi-Fi and the baristas who know your regular order, it exhibits a few challenges to professionalism such as noise and non-business interruptions. However, co-working spaces come with everything you need to get your work done.
They have an abundance of power sockets, high-speed Wi-Fi connections, functional furniture, and plenty of desk space. Other than that free coffee, tea, and snacks are often thrown into the deal at virtual business addresses, which could be the deal maker.
Scalable spaces
Another benefit of the flexibility of the virtual business addresses is that you can scale up as per your requirements. Whether you suddenly need more facilities to employ more staff during busy times or match a peak in demand, co-working spaces can quickly scale up or down to meet your needs. It's likely that a co-working space can be more flexible than a conventional office rental situation.
Conclusion
So, if you are a solo entrepreneur or running a smaller enterprise, the lower costs and flexible nature make co-working spaces a desirable option.
Sarath CP is an Internet Marketing Consultant and Growth Hacking Specialist.