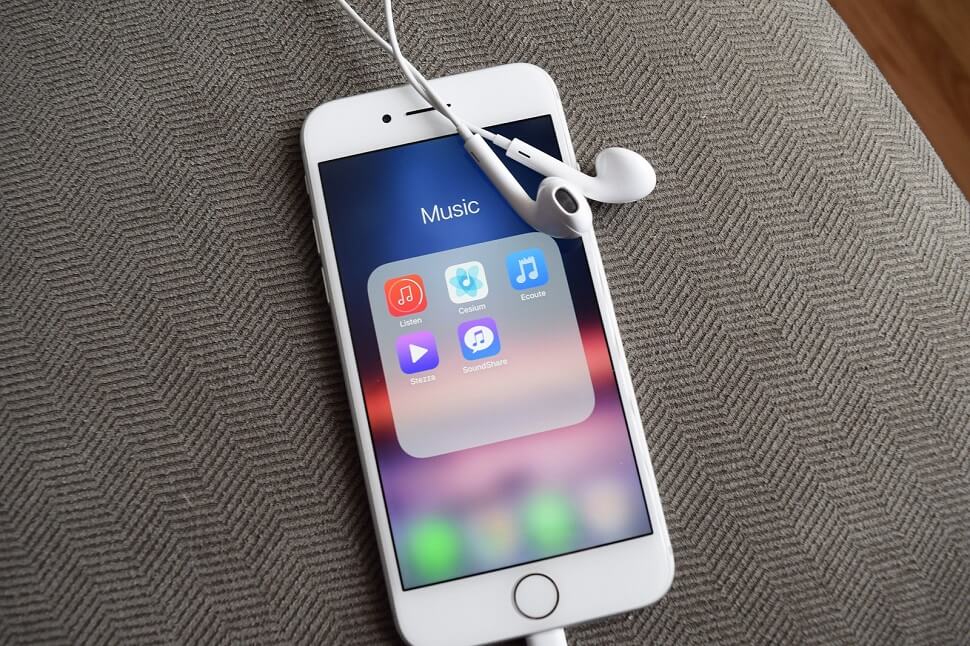 Music is something that cheers you up and lightens your mood. For most of us, music is survival! Is there anything that holds you back to listen to your favorite music on your iPhone? Are you looking for some best music apps for your iPhone? Here is the list of some great music apps. It may help you to listen to uninterrupted free music that too without Wi-Fi!
iPhone Music App
The Music app comes pre-loaded on iPhone. You can unlock its power by using the Apple Music streaming music service. Apple Music provides virtually the entire iTunes Store to your computer and iPhone. It costs $10/month (or $15 for families of up to 6). A 30-day free trial lets you try before signing up. You can save songs for offline listening, create and share playlists, follow artists and so on. This service includes a Radio service, featuring the Beats 1 station. Beats 1 is the worldwide streaming radio station. It is programmed by top DJs, musicians, and tastemakers. Apart from Beats 1, Radio includes a Pandora-style music service. It builds playlists based on the songs or artists a user likes. Apple Music offers all the features you could want in a streaming app. That's right there on your phone. Isn't it convenient?
Google Play Music
The Google-powered app, Google Play Music offers you the opportunity of downloading millions of songs. You can listen to them offline. Users with an account can upload and listen to up to 50,000 songs. They can use their personal library for free at no cost. To create playlists, you can get ad-free YouTube with YouTube Red. Subscribe at no cost and listen to music offline. A 30-day free trial gives you access to the app. After that, the free membership allows you to stream your own music and internet radio. You can Sign up for $9.99/month (or $14.99/month for up to 5 family members). It provides radio-style playlists based on genre, mood, activity etc.
Amazon Music App
Amazon Prime Music is a music streaming service by Amazon. You can purchase a yearly subscription or get a free trial for 30 days. It costs $9.99/month service ($7.99/month for Prime members). Like other apps above, Amazon Prime Music lets you download the track for offline playback. Amazon Prime Music lets you stream over 2 million songs, playlists, and radio stations. It is ad-free and is included in your Prime subscription. With 6 different users, you can also sign up for a family plan.
Spotify Music App
Spotify makes it convenient to find new music. It helps to connect with your friends by way of themed playlists for genres and moods. It has a weekly "Discovery" page that changes to highlight new tunes. Spotify has a much wider range of users around the world than any other service. iPhone owners used to pay $10/month to use Spotify on iOS devices. Now there's a free tier that lets you shuffle music and playlists without a subscription. Though, you have to listen to ads with this version. To unlock all the features of Spotify, you need a premium subscription of $10.
Pandora Music
Despite a diminishing user base, Pandora is a mainstay of the streaming domain. It is a great tool for discovering music. The service uses advanced algorithms based on a specific track or artist, delivering song suggestions. It gets better with feedbacks. Simply download the app and let it go. In the free version of Pandora, you can create stations. It doesn't add free and it limits the number of times you can skip a song in an hour. If you want an ad-free radio experience, then that's available with a $5 monthly subscription. The Premium experience will cost you $13. It gives you the ability to choose single tracks to listen to. Unfortunately, it's available in certain regions of the world.
Sound Cloud
Get the popular and widely used SoundCloud experience with this app. The other apps on this list provide you music. SoundCloud doesn't only do that but offers a platform for musicians, DJs, and other creative people. They can upload and share their own creations with the world. The app restricts uploads on its own (the SoundCloud Pulse app covers that). It gives access to all that music and the site's other features. It includes the discovery of new artists and social networking. The free version of SoundCloud gives you the access of 120 million tracks. You create your own playlists. The subscription of $5.99/month adds offline listening and removes ads. You can upgrade with SoundCloud Go+. It costs $12.99/month and unlocks access to over 30 million additional songs.
Tidal Music App
Tidal is somewhat similar to Spotify. It gives access to high-quality music tracks for $19.99 per month. The app provides comprehensive functionality, music sharing, and offline listening mode. That's what we find interesting. With the Offline Mode, you can save a track directly to your iPhone. You can listen to it without an Internet connection. It's very useful if your connection is slow or your data plan is expensive. This app lets you save for offline listening both the albums and all playlists.
Conclusion
Downloading free music for iPhone is a time-consuming task. The creators of iOS cared to protect musicians from illegal music distribution. Still, there are a couple of apps that can still bring new music to your iPhone. Check the list of these best music download apps for iPhone in the above list. Listen to a specific song or get a mix of your favorite genre. These free music apps for the iPhone will give you everything to match up with your mood.
As you have read the article, it's time to install these free offline music app for iPhone. The best thing is that you do not require the internet to listen to songs in these apps. Try these apps and enjoy add-free music. Feel every room in your home with your favorite music. Prepare a playlist for the next party and be your own DJ.
Ajay Goyal, founder of Endive Software, is passionate about the new technologies. His passion for learning the new mobile technology helps the core team member to introduce something unique and brainstorming.