We live in an age where cloud-based tools simplify a lot of work for us.
Build a professional-looking website from scratch? You have content management systems (CMS) and page builders for that. Set automated marketing emails? Even a free email marketing platform will get the ball rolling.
How about earning massive revenue with your WordPress website without doing anything?
Believe it or not, there were once online products that claimed to help people earn money without doing anything. All they needed to do was to purchase the software, press a button, and watch as the software generates revenue for them.
Of course, none of those "get-rich-quick" tools ever delivered.
Remember, if there's one thing an online tool won't do, it's to turn your website into a money-making machine on your behalf. That one you'll have to do yourself.
The good news is, making money off of your WordPress site is definitely more than doable.  
Tedious? Yes — but it's not rocket science either.
Without further ado, here are three of the best strategies that can help anyone generate tons of revenue from their WordPress website:
1. Display Advertising
As the bread and butter of website monetization, you can't have a list of "best strategies" without mentioning the art of display advertising.
Put simply, it's the practice of displaying ads on your website from display networks like Google AdSense.
There are two types of ad campaign models that reward web publishers: cost per mille (CPM) and cost per click (CPC):
CPM

— Web publishers are compensated per

thousand

views.
CPC

— CPC campaigns, on the other hand, rewards web publishers per

click.
Naturally, both types of ad campaigns have their advantages.
A CPM campaign, for example, favors websites that generate tons of traffic regardless if advertisers manage to get conversions or not. CPC campaigns, on the other hand, may generate revenue faster as long as the ads resonate well with the audience and the website's content.
Whichever ad type you choose to go with, below are additional tips that will maximize your success:
Avoid Intrusive Ads
One of the biggest drawbacks of display advertising is that it can single-handedly ruin the user experience when abused.
Remember, Google also stated that mobile websites with intrusive or interstitial ads will get penalized. This means you're not only ruining your brand image and the browsing experience of your visitors — you're also risking your website's traffic potential down the road.
According to Google, an ad is considered intrusive if:
It covers the main content immediately

or

as the user scrolls through the page

The ad is a standalone interstitial that users must manually close

The above-the-fold section of the page functions as an interstitial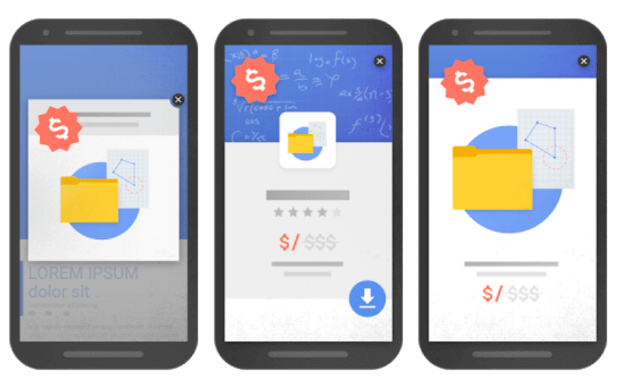 (Image Source: Google Webmaster Blog)
Look at Other Advertising Networks
Keep in mind that Google AdSense isn't the only advertising network you can use to earn ad revenue from your WordPress website. There are dozens of other networks out there — each with different revenue models, strengths, and weaknesses.
Being aware of your options will allow you to be more flexible, especially if you want an ad campaign that perfectly matches your unique goals. And with that said, here are some of the best AdSense alternatives you should consider:
Don't Advertise Too Early
From a user's perspective, seeing too many ads on a website with little to no useful content can be very off-putting. That's why, as a webmaster, you should avoid the mistake of rolling out ads even before you manage to grow your traffic.
A rule of thumb is to use an analytics platform like Google Analytics to monitor key performance metrics, such as total pageviews, average time on page, bounce rate, and more.
Just remember, growing your traffic can't be done unless you consistently publish high-quality content and utilize strategies that maximize their reach, such as social media marketing, guest blogging, and SEO. Unfortunately, these strategies are posts for another day.
2. Offer a Private, "Members Only" Area
Speaking of developing high-quality content, there comes a time when your audience would be willing to pay for a piece of information from you. That's when you can capitalize by offering premium content through a "members only" area on your WordPress website.
There's no need for content marketing jargon for this — it's exactly what it sounds like. It means creating a paid membership subscription that grants access to your premium content.
Fortunately, creating a membership area on your WordPress website can be expedited with the help of plugins.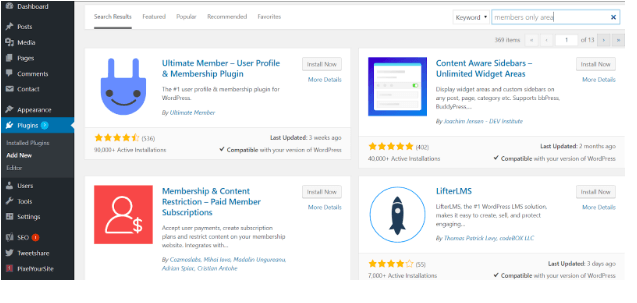 To make sure your paid membership offer helps build your brand and not disappoint your audience, here are a few ground rules you need to observe:
Make your content epic.

If you expect your audience to pay a monthly fee for your content, you best not disappoint them by providing something that they can already acquire elsewhere for free. Pack your content with actionable tips and personal insights that will set it apart from the work of others.
Be goal-oriented.

To increase the value of your content, be sure the subscription is aligned with one specific goal. For example, it could be to help beginners learn the ropes of WordPress development, how to launch a successful crowdsourcing campaign, and so on.
Leverage other content formats.

You can make your premium content stand out by incorporating other types of visual content, such as infographics and videos. You may also use plugins like

WP GoToWebinar

or

WP WebinarSystem

to structure your content in a way that it fosters learning.
Pay attention to your website's performance.

As you incorporate premium content into your WordPress website, you need to make sure you don't compromise its performance. A popular strategy is to use a

CDN to reduce latency

when transferring your web data to distant visitors.
3. Sell Products
If you want to take your WordPress game to the next level, then you may consider integrating an online store section alongside your regular content.
Of course, it's not applicable in all niches. But when it is, it might just be what you need to start raking in massive revenue on your WordPress website.
The first order of business is to research products that your existing audience would definitely be interested in. Once you find a lucrative product opportunity, it's time to look at vendors that can provide you with the goods.
There are two approaches you can have for this step. One is to integrate an e-commerce platform that supports drop shippable products, like Shopify with its Oberlo integration.
Another approach is to use linking tools through affiliate programs like Amazon Associates. These work by letting you earn commissions whenever a visitor uses your affiliate link to purchase a product.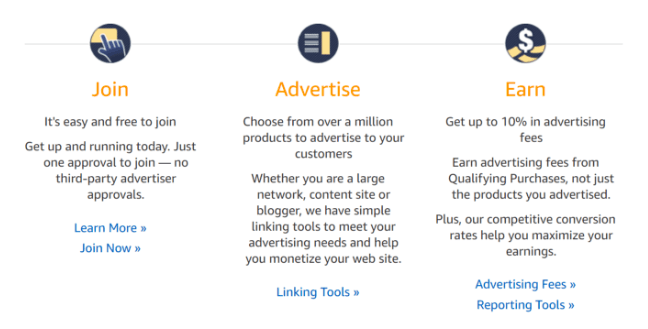 Putting It All Together
Ready to take the next step?
There's one last thing you need to remember: there's nothing preventing you from utilizing every monetization strategy mentioned above.
The only takeaway you need to remember is to focus on one campaign at a time. If your goal is to generate huge profits with your WordPress site, then you should remember that no opportunity should be off the table.
Marc lives and breathes writing. He writes about marketing, business, sports, cybersecurity, or just about anything and everything under the sun.