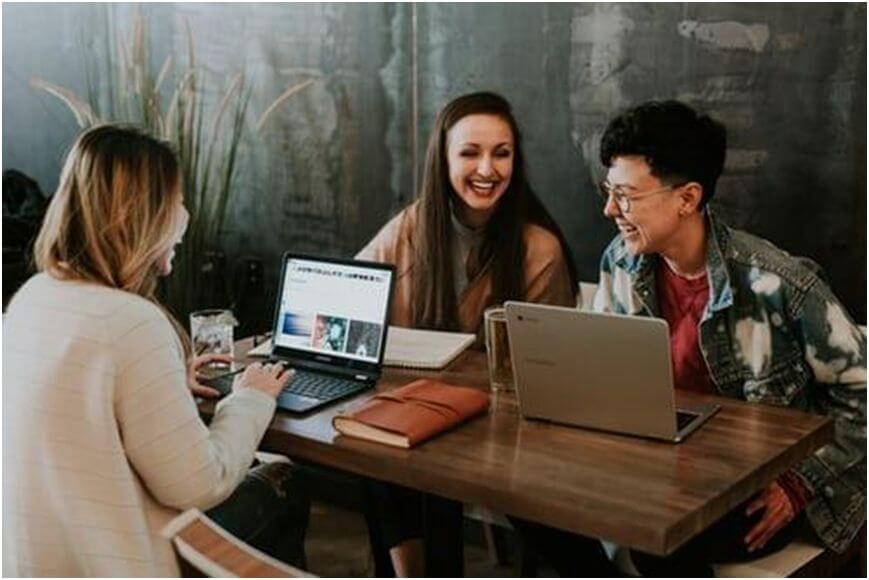 Technology can play an instrumental role in the business landscape, especially in improving the Learning and Development (L&D) department and the overall employee well being due to its omnipresence and familiarity to staff in general. We will discuss the concurrent problems faced by companies and the role of technology in helping businesses and employees as mediator platform.
The depleting employee life cycles bothers every company along with low employee engagement as disengaged employees cost from $450 and $550 billion every year. According to PayScale, around 66% of the surveyed organizations find retention as a growing concern, while 50% state a strong job market to have raised their turnover rate
Interestingly, we can use technological advances to our benefit and leverage it to enhance talent management functions. Harnessing them will help in mediating between organizational requirements and employee experience as 3.9 billion people (half of the population) are using the internet across the world (source: Statista) So, using digital literacy in offices can be a game-changer due to its well-established familiarity.
Dive in deeper to learn about some of the most amazing applications of modern tech in the business world.
Smartphone Enabled E-learning
The Generation Z employees have started entering the employment market, and they have been raised in a techno-savvy environment with 3.2 billion people owning a smartphone. (source: Statista report) The businesses can use mobile app-based learning modules to help newbies enhance their skill set as these employees have a habit to consume content on their smartphones. Companies may develop work profile oriented L&D programs with extensive insights to SOPs on each function so that employees can access these tutorials on their smartphones at home or while commuting. It is also necessary to integrate these apps with performance evaluation systems for in-depth personal evaluation.
Recording day to day progress will help in rendering feedback to staff members while they can complete their weekly/special training sessions whenever they want at the place of their convenience. The content shall contain a fine mix of videos, informative text, and FAQs. Evaluation tests and pulse surveys can also be attached at the end of the training. Nudge-based tech is also being accepted in various enterprises for stimulating the learning process.
Digital Assistants for Everyone
From Amazon's Alexa to Apple Siri, we all use digital assistants for a broad spectrum of purposes. Integrating them to business software solutions will result in a massive push to professional development and well being at the workplaces. For instance, the employees can use virtual assistants for work scheduling, correspondence management, automate reporting functions, and aid the performance by providing real-time analysis of any deviation from desired targets.
The ability to record data consistently and analyse it will benefit the development of the employee's skill set without disturbing routine work. Having a personal assistant to look after administrative formalities of work and establish closed-loop feedback will increase job satisfaction as productive time will not be compromised for monotonous, tedious, and unrewarding activities done daily. This backed by a survey from Zenger and Folkman's article in HBR, which states that 92% of people would accept negative feedbacks when rendered appropriately. Digital Assistants can fit well in this role as there is no human to human interaction involved in providing personalized feedback. So far, this has been a privilege meant only for the top positions, but virtual assistants will become economical means to improve employee experience across all verticals.
Gamification Tools
Gamification is an emerging management theory which emphasizes the use of game-play principles in work environments. It banks on the secretion of dopamine, serotonin, and endorphins on being rewarded. These software tools will encourage employee engagement and curb the stress developed at workplaces, especially in the monotonous profiles. The integration of gamification tools with various modules of human capital management (HCM) solutions such as timekeeping, performance, payroll process and training module can help in increasing employees' confidence, expertise, and motivation. A staggering 69% of employees would like to work harder on being recognized. (source: LinkedIn)
As an example, the punctuality issue can be solved by organizing surprise games like a treasure hunt with the entry time being considered as entry criteria. Also, an employee of the month competition can be arranged separately for each department with automated analysis of performance data. These activities will help in building a positive, cheerful, and most importantly, an appreciative office culture. Boosting peer to peer (P2P) recognition will also reduce the stress in interpersonal relationships among the staff members. It is also beneficial for increasing the morale of the staff with clerical job roles as the element of surprise will help them in focusing on work while lowering anxiety.
Health Apps
Globally, the expenditure on wellness has reached $4.2 trillion, which is half the expenses incurred on medical facilities. (source: Global Wellness Institute) Companies can integrate health apps on staff's personal devices in order to keep a tab on the mental and physical health of the staff members. Clubbing these apps with the company policy on creating a mentally, physically, and emotionally fit would be welcomed by all employees. It also makes staff feel connected with their companies due to the display of empathy at personalized levels.
The recreational zones in office premises shall also be an essential part of the strategy, and it will also improve the employees' outlook on companies initiatives on their well being. Health Apps will also help in managing the company operations as the employers can now access stress levels at various instances to devise an employee-friendly yet productive operations policy. More than half of organizations stated that they use health and wellness benefits for employee retention in a MetLife report.
Allowing the Use of Personal Tools
It has been felt by many organizations that allowing to use of personal tools in the office improves productivity. The implementation of the BYOD (Bring Your Own Device) policy is an outstanding move in the direction as it will reduce the infrastructure costs and make the staff feel better as they use their regular devices for work. Notably, the newer generations of the workforce are pretty much using their laptops and smartphones round the clock and using it at work would add to their well being. Using bulky computers docked to the office desk or relying on software solutions that can be accessed from a single system will lower the chances of employees using them proactively.
Using the same tools for personal usage and work will also increase the working efficiency since employees who can use their specific platforms (iOS/Android/Windows/macOS) without having to adapt to company infrastructure. Many companies are now encouraging the use of various wellness-oriented programs such as financial budgeting, loan management, and student counselling through online vendors to ensure peace of mind for their staff members.
AR/VR For Business Education
The technological advances in AR/VR technology can boost the business learning initiatives to a great extent. The employees can now experience the tutorials in the form of immersive reality that is interactive and scalable in nature. They will be instrumental in industries with hazardous working environments such as heavy engineering and mining. The new joiners can be trained adequately without any risks by conducting the sessions in safer virtual/augmented reality-based environment.
This will be highly appreciated and establish the employer brand of companies in the market as a genuine organizations to work with. Companies with a decent learning culture are 30-50% more likely to enjoy higher employee engagement and retention rates than others. (source: Robert Half) They will also help in controlling the talent development budgets as no cost is incurred on maintaining personnel safety and training equipment. Even in sales, virtual client calls can boost the confidence of executives new to the organization or product. Companies like Adobe are also investing in creating AR/VR tools exclusively for business learning purposes.
MOOC Programs
Massive Online Open Course (MOOC) programs are internet-based learning modules that facilitate learning on diverse subjects without any time/geographical constraint. 42% of employees cite L&D as a vital employee benefit activity. (source: Udemy) Hence, more and more companies will look forward to MOOC platforms for encouraging on-premise and off-premise educational activities. It is also to be noted that most of the jobs related to technology need constant upgradation of knowledge in order to stay relevant to the market. Workers will also feel more confident about their job security owing to their multidimensional proficiency at work.
However, the most significant advantage would be developing a talent pool with cross-functional skills and promote them internally instead of hiring new employees for senior positions. MOOC programs will enhance the employees' expertise in fields other than their specialization and add to their employability. Providing staff with such opportunities will become extremely important in the days to come with the inclusion of younger people in the workforce and the addition of newer disciplines as business functions. Hence, internal training sessions could leverage MOOC for reducing the costs and still provide world-class educational content consistently.
Summing up: An Optimistic View to Future Workplaces
The application of education and well-being solutions is not limited to the wrist bands or gyms anymore as companies are becoming more conscious of their staff's personal needs. Due to the employee-driven market, technology can be incredibly useful as a medium to ensure the well being of the staff members on a cost-effective basis.
Business education and well being at offices is being increasingly discussed as they happen to be the significant propellants of attrition globally. Workers in all sectors are looking forward to benefits programs apart from the compensation structure when considering job changes. The only way to ensure higher employee engagement in the long term would be to align the individual goals of the staff members with the organizational objectives by the use of various technological tools. Hence, we will witness these modern technologies taking over the conventional forms of business education and well-being programs in the near future.
Divyang Metaliya is a Business Consultant at FactoHR, an India based HR and Payroll Software solution provider. He is a creative business strategist with more than 8 years of experience.