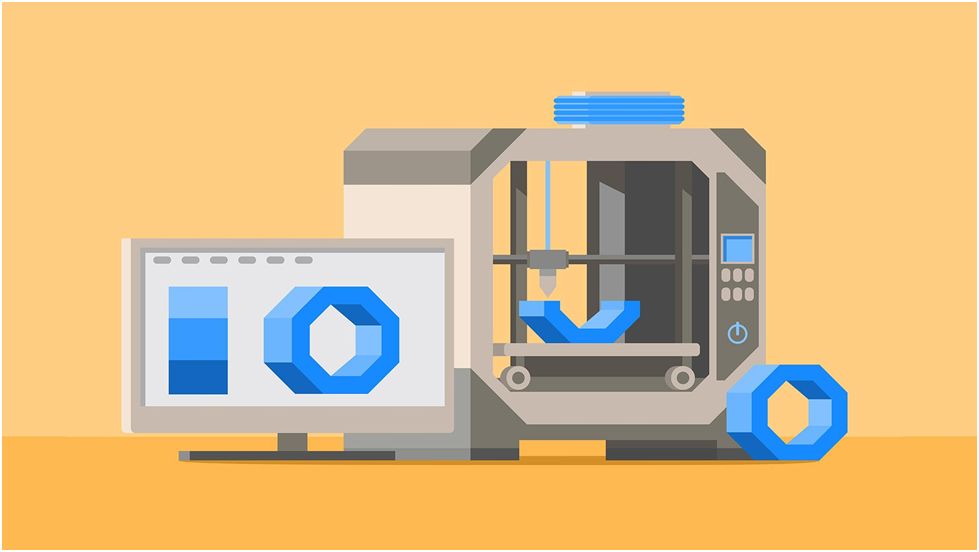 If you have watched videos of a machine going round and round in spirals building some unique designs out of solids, you probably have come across a 3D printer.
So what is this 3D Printing technology?
It is the process of printing any structures and objects with a wide variety of materials from plastic to metal to concrete by adding layers of materials one above the other.
Gone are the days when companies used to search for artists to recreate 3D models of a product through sketches or molds and still struggle to reproduce the real-life look of the product. With 3D printers now it is only a print away to build the miniature model of your product that will be looking exactly the same on manufacturing.
The buzz of 3D printers has been around only for the past few years but they have been in practice since the 1980s and now 3D printing is used in creating products from small screws to an aircraft, that in the future can evolve into creating body parts that are implantable in humans!
The market size of 3D printing is set to reach USD 13.63 billion in 2020 from USD 11.58 billion in 2019, this massive growth is the response of the reach the technology has gained across the industries. It is the capacity to print lightweight yet strong structures without limiting to geometrical constraints that have made 3D printing popular and the most adopted technology recently.
After knowing the benefits and freedom that this technology allows in designing your products, you may be surprised to know how you can use it.
With 3D printing, you can unleash your creativity and start earning in various means. In this article, we will discuss things that you need to consider before landing your 3D Printing Startup.
Stay tuned and keep on reading!
Buy the Right Printer
Every business needs investment and in the case of a 3D printing business you need to spend some money on buying a right 3D Printer considering your business model.
There are different types of printers available in the market that print various materials and forms, it is very important for you to see through them and choose the right printer for your 3D printing journey.
The factors you have to keep in mind before buying your printer are what kind of product you are planning to design, the size, and the product's material.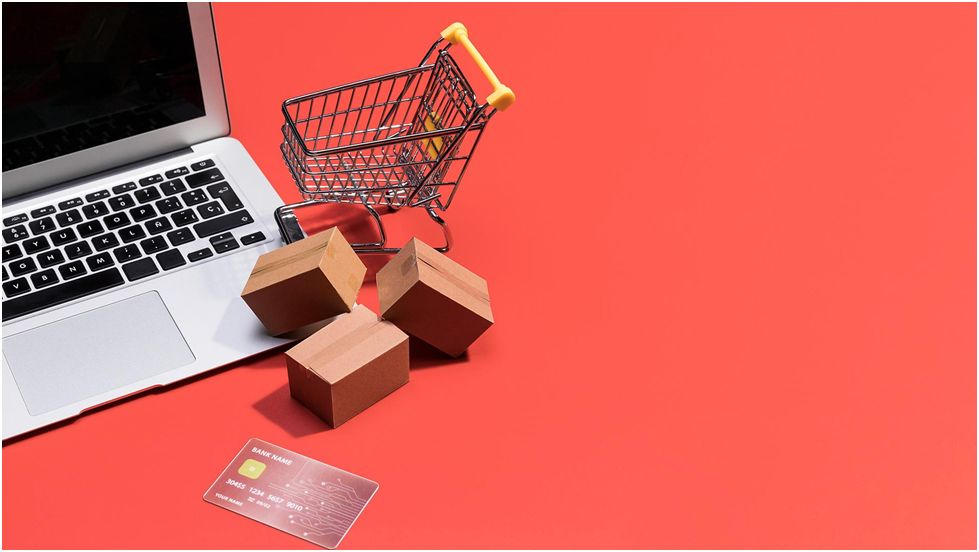 Set your budget clearly, the best printer starts costing from $500 to $3000, so it is wise to set your budget and search for the printer that suits your needs and finances.
Once you have decided the type of products you are planning to design, you have to look for specifications like the type of filament used, nozzle size, the maximum traveling speed of the printer, the rating size of the printer, deciding on these specifications will let you scale your needs and revisit your budget accordingly.
You can buy an expensive printer with the best specifications, but it will only be a waste of money if it is not used to its fullest capacity. So while beginning, opt for the cheapest printers with simple specs, build models with them to experiment, and learn.
In 3D printing, the investments may not always decide the money you are about to make. The cost of the printer you buy is not going to decide your profit, but the products you design.
There is no one size fits all solution with 3D printing. Every product needs a specific type of printer, so start simple and explore your options to grow bigger.
Choosing the Right Marketplace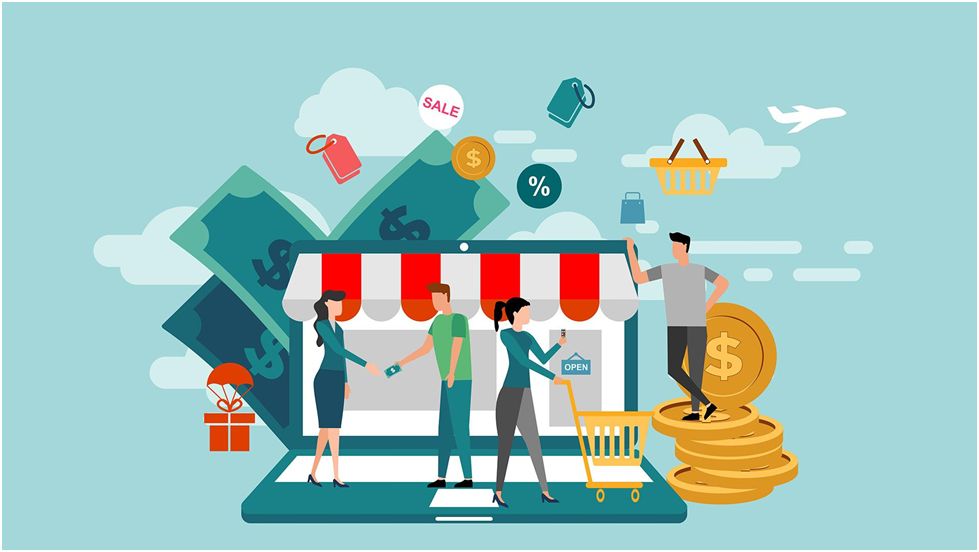 Marketing a product is as important as manufacturing it. It is not very likely to advertise and market small-scale products, in that case, the next best option to reach the customers is to showcase your product in the right place.
Several online selling sites may serve as the right place to market your 3D prints, a few of them are listed below.
General Platforms
Amazon lets you sell your 3D models on-demand basis.
Amazon has been a trustable platform to bridge the seller-buyer gap in many different fields, now in 3D printing it lets the manufacturer reach the customer easily through very simple steps.
As per the statistics, monthly more than 2 billions of online customers visit Amazon. So it serves as one of the biggest marketplaces for businesses to sell online. Also, we have seen that there is very little competition in selling 3D printed objects on Amazon.
Etsy is one of the popular sites to sell 3D printed products. Etsy focuses on arts and crafts, so anyone models of this category can choose Etsy without a second thought.
This site has become a trustable platform for unique crafts, which are the traits of 3D printed artistries.
Specialized Platforms
It is an excellent marketplace to sell 3D models online.
Buyers may choose from your existing design or hire you as a designer for their custom requirements.
You can sell a wide range of objects and engineering prototypes. CGTrader offers around 25 3D model categories that mainly include gaming, construction, abstract shapes, ornamental models etc.
It is the best platform for businesses and 3D artists.
Turbosquid is powered by a vast customer base and enterprises looking for highly accurate commercial quality 3D prints.
With an easy-to-use website, a wide range of 3D models, affordable prices and seasonal discounts Turbosquid have attracted a huge fan base.
Users praise their customer service and easy return policy.
Uploading your 3D model and selling prints is a breeze with Shapeways.
It is an excellent marketplace to sell art prototypes, toys, ornaments etc. Shapeways is one of the most famous sites suggested for 3D models.
It lets you network designers and manufacturers, apart from just finding your customers.
There are several other popular websites like Cults3D, Threeding which gives you the opportunity to present and sell your work. But we will also recommend you to have your own website right from the start as you go along and build your reputation on the above platforms.
What Can You Print and Sell?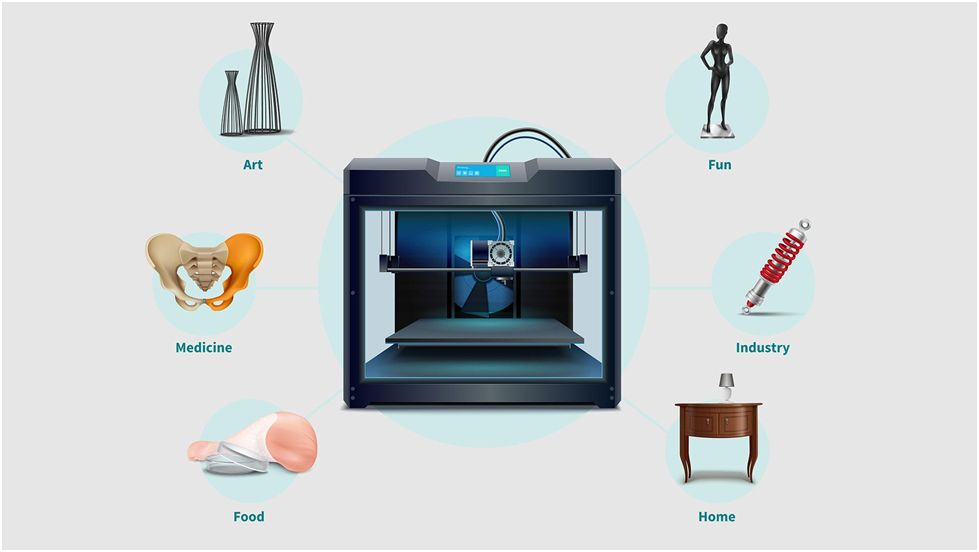 3D printing does not hold any limitations like material or structure. You can let your imagination run wild and free to design a product.
The geometrical restrictions of cutting, molding, and soldering is defeated by layering the material.
You can print any simple product that solves a day-to-day misery in your home to products such as prosthetic limbs that adds some serious value to the user's life. Here are simple ideas from our end for you to print:
This is the very first application of 3D printing. Prototyping is the method of creating miniature models to explain the concept and design of the product for manufacturing.
Prototypes of automobiles can be designed and printed for firms. This is a challenging and profitable product.
A custom prototype is a very crucial part of a company's Research and Development process. So, supplying custom objects and structures to enterprises by 3D printing is an excellent idea.
Small architectural models can be printed to define the design properly and effectively.
You may not believe it, but 3D printing has not just stopped with designing construction models but has grown to build concrete buildings.
On a bigger budget with the right equipment, you can print concrete buildings or architectural models.
Detailed crafts and arts that require intricate works can be printed to attract a wide range of audiences.
Small artwork like door handles, carved frames, trophies, keyholders, anything that quenches your creative thirst can be printed and sold.
Also, artists are using this technology to print attractive ornaments and abstract shapes.
Small mechanical parts like screws and nuts of various sizes can be 3D printed and marketed easily.
These products are the few most used but complicated products to build in methods other than 3D printing, so marketing these will reach a larger customer range.
Earning On-the-Go
Passive income is an effective way to make money in the digital era.
While you invest in your knowledge, software, and hardware you can earn from all three of them. 3D printing is the low-cost manufacturing solution available.
Youtube Videos
On designing a product you may create a youtube video of the techniques you use and earn money out of it. The videos can be knowledge base videos that educate the viewers or process videos that showcase the printing process completely. The video formats can be chosen based on the target audience and your comfort.
This may not be an immediate income source but, in the long run, it will turn out one of the most productive methods of making money.
Online Classes
You may create online classes to educate 3D printing to your audience. This is another source of passive income, where you only upload your video once and still earn every time your course is being enrolled.
This method needs no regular interaction as it is required with other income sources.
Blogging Website
Blogging about 3D printers can make decent money if maintained properly. It might be a tedious task to earn money out of blogging just as in youtube but if you are consistent with your work and provide quality content you will reach a point where you can make money with only very little work.
Outsourcing 3D Printers
You can earn by renting your printers to print other designer's ideas, this way you can make sure you don't underuse your hardware.
Conclusion :
The future of 3D printing is expected to rise only along with other emerging technologies. From automobiles to space research, every field makes the most out of this technology due to its flexibility.
To invest in such futuristic technology is a strong positive decision to take, but 3D printing is not child's play. It requires more energy, time, and effort to learn and implement a model.
Likewise, this technology requires a lot of patience. It may take hours to print a structure. The more you print, the more you learn, so experiment with your designs and learn to create quality products before you sell.
It is not needed to invest a huge amount in printers to make quality money in 3D printing, designing attractive ideas, and marketing them properly is the key.
This is a field of creators, so it might take a while for you to earn what you deserve, being consistent in your work will let you reach the right place.

Rakesh is an engineer and team leader at a Robotics E-commerce company. He loves to talk about drones, 3D Printers and electro-mechanical stuff. Read more from him at ultradvice.com.
You can also connect with him on Twitter, LinkedInand Facebook.