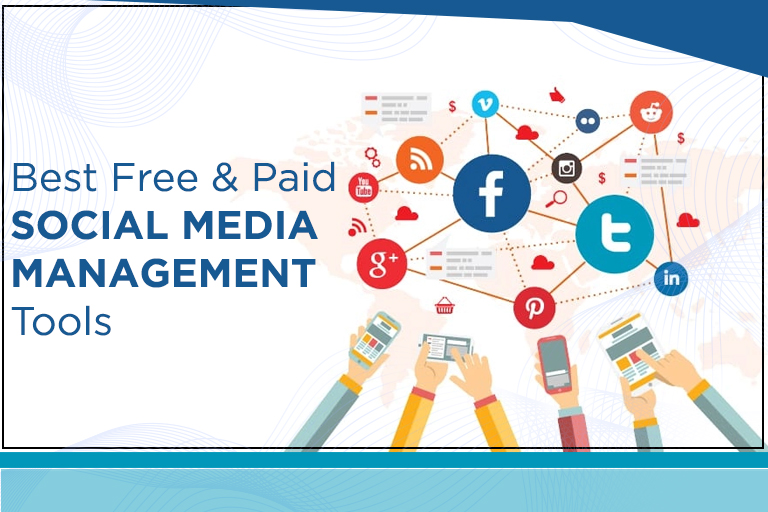 Managing numerous social media accounts can be a complete nightmare due to the sheer number of available social media management tools. To elaborate, large businesses have to invest a lot in their workforce, who post updates into numerous social media accounts. Additionally, the posts need to be scheduled and submitted throughout the day, just to keep up with the competition. This could be difficult for most small and mid-sized companies, with few workers, who have to operate on a limited budget.
As a result, many small companies resort to social media management systems, managed by the best SMO companies. This allows them to build a complete social media plan and administer various social media activities from a single location.
An overview of SMO tools features:
Dashboard:The integrated dashboard that allows you to analyze all of your social media posts. It allows you to connect with your target audience easily.
Organizing and planning: You can schedule your content across several social media platforms in an organized manner.
Reports: The reports assist to evaluate the performance of your content across various networks.
A look at the best FREE social media management tools, 2021:
Social Champ:-
Social Champ, a social media management application, offers advanced automation capabilities that handle various activities of main social media networks. This includes Facebook, LinkedIn, Instagram, Twitter, and many more. Social Champ is available for both Mac and Windows. It offers capabilities such as Social Media Calendar, Analytics, Auto RSS feed, Bulk Upload among others. You may completely automate the operations.
Aside from that, Social Champ offers connections with Canva, UTM monitoring, and a royalty-free image collection. Overall, Social Champ enables you to do all social media activities. These range from generating and scheduling posts to evaluate and monitoring your results and metrics.
Posts may be created, edited, designed, and scheduled using the content dashboard. You can check out all of the planned and published posts in a calendar view. You can reschedule them using the drag and drop functionality. Analytics enables you to monitor the development of various social media platforms, using indicators, specific to each network.
SocialOomph:-
You can schedule updates to your preferred social media channels using SocialOoomph, a freemium service.
The free version allows you to create one profile. It allows planning an infinite number of posts, and publish up to three times each hour.  Premium membership will allow publishing to several social media streams at once. Nonetheless, if you desire to focus on one channel, this is a straightforward choice.
By using SocialOomph, you can plan articles to go live several times each day. It allows you to relax and watch your content generate leads for your company.
Agorapulse:-
Choose Agorapulse if you want a single platform that allows you to quickly plan, interact, and notify on social media platforms. Agorapulse offers a variety of strong capabilities to make social media administration simpler.
A free 14-day trial of Agorapulse enables you to experiment with the whole product. It includes customizable scheduling choices, automated report scheduling, customer support among other features.
Later:-
Want to give your Instagram feed a facelift? Later assists you in customizing your feed so that you can have an impactful online presence. It is completely free to set up an Instagram profile.
Later also provides you with Linkin.bio. This allows you to generate visitors to your e-commerce shop directly from your Instagram account. You will have access to Linkin. bio lite as part of Later's free plan. Hence, think about making your articles clickable to boost business.
This would assist you to build your business that would create the desired impact. You also get statistics for your Instagram profile.
Planoly:-
With Planoly, you can plan out when to send your Instagram posts. The free plan offers two social media accounts with the ability to schedule updates. Thus, you may set up automation of Pinterest posts and save time in the process. it allows users to connect to their offerings, resources, websites, and other resources quickly.
With Planoly in hand, making graphics, sharing pictures, and publishing other visual material goes easy. You can plan your posts on the calendar. You can even interact with followers and track the statistics of your published posts.  These facilities aid to develop high business leads.
Best PAID Social Media Management Tools of 2021:
Given below are some popular and best PAID Social Media Management Tools of 2021. These are recommended by SMO Services, India too,
Sendible:-
Sendible brings up a host of information for you. You can use the data to analyze and plan business strategies accordingly. It allows you to stay in touch with your team using the management suites. It hosts built-in connections to social media networks, blogs, etc.
Pros:
Complete compatibility with the majority of social media networks and blogging platforms.
Content recommendations, a content library, allows access to the design tool Canva. They are included in the RSS Feed poster.
Reports that are both visually appealing and factual
Quick and convenient accessibility to the Canva design tool
It takes less time for customers to generate visually appealing and comprehensive reports.
Content recommendations, a built-in content library, and a facility for uploading RSS feeds are all included.
Cons:
No free plan.
The findings of the geographic keyword monitoring are not highly reliable.
Each plan comes with a two-week free trial period built-in.
Oktopost:-
Oktopost, specifically designed for B2B marketing, helps to manage, monitor, and assess your social media activity. Oktopost's. a feature-rich solution, helps you achieve your marketing objectives via social media. It helps to realize the advantages of social media on the sales funnel. Thus, B2B organizations could get the value of social media to their businesses using Oktopost.
Pros:
Conversion monitoring across many accounts and platforms
Analysis of the most effective avenues for driving outcomes.
Employee advocacy is already built-in.
Social data enrichment integrated directly into the CRM
Employee advocacy is already present.
Offers a host of robust B2B connection choices.
Allows to analyze the return on investment (ROI) related to social media activities
Comes at a reasonable cost upon request.
Cons:
There is no free trial available.
Concentration on the enterprise
Buffer:-
Buffer, an easy-to-use and understand, aids to conduct cross-platform publishing and doesn't have much of a budget. When using this social media management system, companies can easily schedule a variety of content formats. Available on various devices and browsers, whilst the move.
It allows to post various pieces of information across multiple platforms and modify the content as needed.
Pros:
Features a virtual queue that allows you to post-strategize your material during the day seamlessly.
Schedule material throughout all social media platforms, without the need to schedule it separately on each platform.
Pablo, an image editor, is included.
Designed for mid-to-large-sized businesses and government organizations
Pricing strategies were devised.
Cons:
Instagram's inability to provide complete assistance
The absence of an interesting dashboard
Comes with a free two-week trial period.
MeetEdgar:-
Features graphical UI
MeetEdgar is an excellent choice for small companies, freelancers, entrepreneurs, and others. It helps to improve their social media presence on a limited budget. Useful for large corporations too.
Its automatic content recycling feature enables to reuse of current and previous content. This optimizes ROI from each post. Thus, it could become a company's most valuable asset.
Pros:
Allows information reuse and storage. Republishing is automated to increase interaction.
Designed for mid-to-large-sized entrepreneurs.
Cons:
Prominent social media sites such as Pinterest and Instagram are not supported.
A paid subscription service.
HootSuite:-
When it comes to B2C SMO, HootSuite is one of the leaders in the field. This web management tool offers extensive collaboration capabilities. It allows you to handle and show all of your social media profiles on a single dashboard. In addition, it operates on many devices, without the need to download anything.
Pros:
Numerous YouTube videos may be uploaded to various usernames at the same time.
Although it is web-based, it also offers a mobile application for Android and iOS devices.
Manage numerous social media accounts without having to sign in to each one individually.
It allows adjusting to any business scenario.
Cons:
There have been occasional compatibility difficulties on various systems, resulting in upload problems.
There are only a limited amount of URL shortening choices.
The quantity of free accounts is limited.
A one-month trial falls within the price of the plan.
Conclusion:
You can opt for free or paid Social Media Management Tools based on your requirements. Usually, the best SMO companies opt for the paid version as it offers a host of useful features.
Vivek Sharma is a Digital MarketingExpert with rich industrial experience and knowledge. Currently, he is working with the PNJ Sharptech. He is famous for his excellent work and provides guaranteed results.