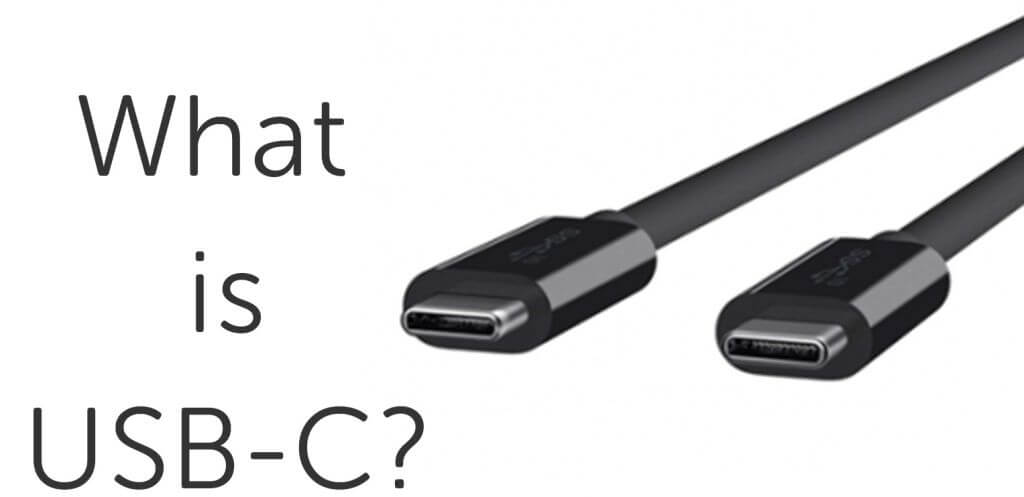 There have been improvements in the USB space over the last year, moving from USB-A port connection through to USB-B and now USB-C. The USB-C is set to replace the USB interfaces and found on all manner of devices like the newest laptops, phones, and tablets.
USB-C is the emerging standard for data transfer and charging. It's the most advanced sync and charging cable, combining future-proof technology with the current requirements of wired devices.
As the use of USB-C continues to grow, having a USB-C device on hand makes the most sense. So, what exactly is USB-C and which of its features you should look for when purchasing your next USB-C device?
What Is USB-C?
USB-C also refer to as Type-C, is the latest connector developed by the USB Implementers' Forum (USB-IF).  It has a group of industry leaders within the consumer electronics community including Microsoft, Apple, Belkin, Dell, HP, Intel, and Samsung. PC manufacturers have so readily accepted USB-C.
The USB -C connector is smaller, reversible, oval, and symmetrically in shape, meaning there is no wrong way to plug it in, eliminating the disappointments of earlier USB ports and setting it on a par with Apple's reversible Lightning plug.
While USB-C ports are becoming more popular on mobile devices and consumer hardware, recent Apple MacBook is integrated with USB Type-C connections. USB-C is also closely linked to several powerful new technologies, including USB 3.1, Thunderbolt 3, and USB Power Delivery.
Is It Like Micro USB?
At first glance, the USB-C connector may look like a micro USB connector, but they are not similar. The USB-C connector looks thicker like Apple's Lightning and MagSafe. You don't need to flip the connector to plug it in as long as the connector is right.
On both ends, the USB -C cable also has the same connector, and the plug on each end is perfectly symmetrical. USB-C is orientation agnostic; you can plug either end of the cable into a device and plug it in right side up or upside down.
With USB-C, you won't have to bother which end to plug in, which means there's no chance of damaging the ports on your computer or cable by plugging it in the wrong way.
USB-C and USB 3.1
There are plenty of confusions as USB Type-C, and USB 3.1 standard make their way into the market. Many present-day devices have moved away from the USB-A, USB-B, and micro USB ports to USB-C, which is small, often goes hand in hand with the USB 3.1 transfer speeds.
Almost all devices that support USB 3.1 use the USB-C port. USB 3.1 can produce a power output of up to 20 volts at five amps and has a top speed of 10Gbps. USB-C also allows for bi-directional power, so when applicable, a peripheral device could even charge a host device.
USB 3.1 ports featuring USB-C connectors is everywhere; so, when buying your next device, you need to keep your eye on the details to make sure you're getting a device that supports USB-C.
USB-C Features
USB-C is a single connector standard that every device should be able to use. Whether you're charging your smartphone from a USB charger or connecting an external hard-drive to your laptop all you need is a single cable. The connector is tiny and small enough to fit into a super-thin mobile device, but also sturdy enough to connect all the peripherals you want to your laptop.
So you won't have to keep loads of different USB cables with varying shapes of connector for your various devices, which means you can do away with an array of USB cables, proprietary power adapters and move to a single solution that works for all devices.
Port Support
You can use USB-C's to power a native DisplayPort, VGA, HDMI, MHL, or connect to anything assuming you have the proper adapter and cables. It also supports sending video signals and power streams. The USB-C spec includes audio transmissions, but it has not replaced the 3.5mm headphone jack on computers as it has on devices like the Essential Phone PH-1.
So far, every USB-C's supports both data transfers and power delivery, but not every PC maker has connected the ports to every system's graphics hardware. However, USB-C is designed to be future-proof, meaning its intended for future and faster USB versions.
Thunderbolt 3
A USB-C port with Thunderbolt 3 means a single cable is all you need to power and transfer a significant amount of information to and from even a more complex device like a computer. Thunderbolt 3 is a standard that uses the USB-C port and offers data transfer rates up to 40GBps bandwidth, can move as much as 100 watts of power and decreased power consumption.
The adoption of Thunderbolt 3 on USB-C gives you just only one type of port and cable to connect all peripheral devices to each other. Its developer, Intel, lauds its ability to charge devices, and also send video and data to externally connected displays. Its compatibility is expanded over the previous generations mini-DisplayPort connector by leveraging the USB-C port.
Adapters and Cables
The USB cables and adapters are one variable to consider when trying to utilize USB-C transfer rates and power output to your fullest potential. Cables that support USB-C can transfer data at up to 10 Gbit/s and enable fast data transfer, as well as a dramatic boost in power output capabilities.
USB-C connections can also offer DisplayPort capabilities, provided the cable is compatible, making data transfer, 4k video output, power input and even power output possible over a single cable. Therefore, if you invest in a good USB-C cable, It will work with anything and everything that supports USB-C.
Apple, for instance, is already selling some adapters that connect with USB-C. The USB Type-C Digital AV Adapter [$79.99] connects the laptop to HDMI using the standard USB 3.0 and power. Google is also selling USB Type-C accessories, which should work on either the MacBook or the Pixel. These include a power brick ($59.99), a Type-C to DisplayPort wire ($39.99) and a Type-C to Type-A cable ($12.99).
Docking Procedures
There are various USB-C docking solutions available from personal computer makers like HP and Dell to third-party accessory manufacturers like Caldigit, OWC, and Belkin. These docks can recharge your laptop; give you access to extra ports including HDMI, Ethernet, USB 3.0, and VGA, and other peripheral devices.
What Devices Have USB-C Today?
The new Apple MacBook was the first to announced laptop ship with a USB Type-C connector, and followed by Google's Chromebook Pixel. Besides, the Nokia N1 uses USB-C for charging and data, as well as a smartphone from LeTV and the OnePlus 2.
SanDisk has also manufacture USB -C Flash drive that as a USB Type-A connector for backward compatibility. This flash drive is available only in the 32GB and can send data over the USB 3.0 protocol.
Is This The Future?
The release of USB –C offer some fascinating possibilities for today's computing devices. USB-C was designed to replace the USB-A ports found on laptops and the micro-USB-B ports found on most smartphones. If you buy a thin laptop, particularly high-end and gaming laptop, it's likely you have a USB-C port. In a few years, devices using the old USB-A connector will be challenging to find because pretty much everyone manufacturer will move to USB-C soon and so do users.