As a blogger, you probably spend a lot of time on your mobile phone. Even if you are not, there are some things that you should be able to do for your blog while on the go. Be it writing, managing social media, analyzing your market, or just checking whether your website is up or not; there are apps that will simplify these tasks for you. Here we will go over a list of the top 5 apps you should use on your phone if you are a WordPress blogger.
The first app every WordPress blogger should download is the WordPress app. It lets you take your blog with you everywhere you go. Basically, it lets you run your blog from your phone. In the era where the internet is moving from computers to mobile phones, this is an essential tool in every blogger's toolbox.
If you are serious about your blog you will want to be able to access it from anywhere. There are many benefits which come with mobile blogging. With this app, you can publish short posts while you are bored in a waiting room or on a bus. It could happen that you notice a big mistake in one of your posts while sipping coffee with your friends; the WordPress App will help you fix it right away.
In short, this app will let you do most of the stuff that you usually had to return home to do; all while roaming around the world.
If you started a blog and you are not using Google Analytics you should start using it right away. It is a free tool that will give you information about visitors to your website. It is really important to know how many, and at what time, people visit your website. With additional information about your audience, you will be able to tailor a better experience for them and increase the quality of your blog.
Google analytics will tell you all of that and more. You will find out what visitors are doing on your website, how much time they are spending on individual posts, which posts are getting the most readers, and what devices your visitors are using to read your blog.
You can access all of this info in the Google Analytics app. It doesn't matter if you've used Google Analytics before or not, this info should be always accessible to you if you care about your blog. Thankfully there is also a free app which lets you do all of this as if you were sitting behind your computer. This app should definitely be installed on your phone.
If you want it to be successful, you will have to learn how to promote your blog. Social networks are of course one of the mediums where people will find out about your blog but can be quite stressing to manage multiple social networks, especially on your phone. That is where Hootsuite jumps in.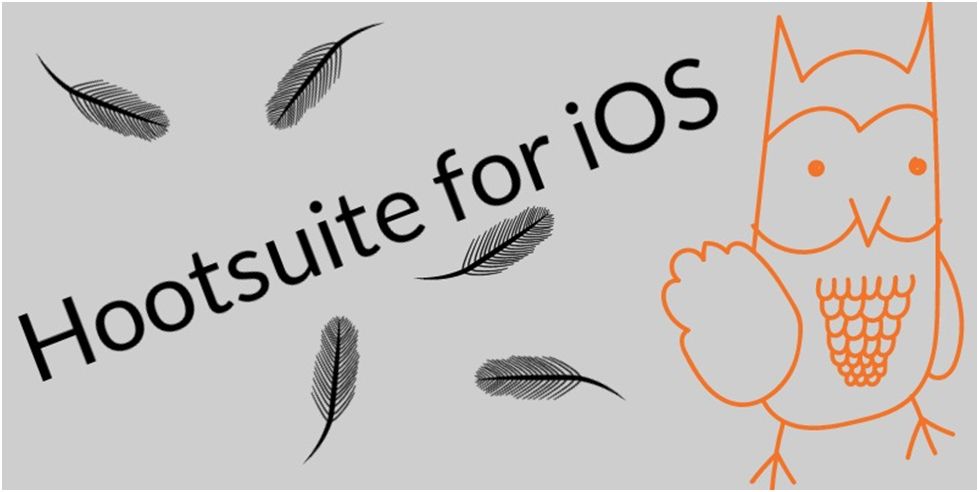 Hootsuite will let you be present on social media, even when you are sleeping, by letting you schedule and coordinate posts across various social networks. It lets you search conversations by keyword, hashtag, and location. This way you can check how people perceive your blog or what they are saying about topics you are writing about. It also offers analytics of social networks that will help you measure which social networks and promotional campaigns bring most of your new and returning visitors.
Hootsuite will let you manage two social media profiles for free which is enough for most of the bloggers. If that is not enough their cheapest option, which lets you manage five profiles for $19.99 monthly, is all you will need as a blogger.
It is important to know if your blog goes down. If your blog spends a whole weekend down it is likely that you will never again see some of the traffic that visited during that period. You don't need to refresh your blog on your phone every now and then to know if the website is up. All you need to know when your blog goes down is Pingdom. It is an uptime monitoring app which will notify you if your website goes down. If you want to monitor more than one website you will have to pay, but Pingdom lets every user monitor one website for free.
Ulysses is one of the best writing apps on the market. It was made for creative writers who prefer a distraction-free environment. Ulysses has a simple but inviting design. Once you start writing, everything else in the app moves out of your way to leave you alone with your text.
It is a cross-platform app for Mac and iOS. All your files will sync between those platforms allowing you to open them and continue writing anywhere. In addition, all features that exist on Mac are also supported in the app on your iPhone and iPad. Ulysses can export text in various formats, but the most important for bloggers is the capability to publish directly to WordPress from within the app.
When it comes to organizing and navigating your files, Ulysses does a great job by letting you create an unlimited number of groups with an unlimited number of text documents in each group. Additional information such as images, notes, keywords, and other documents can be attached to each of the documents. If you ever forget where something ended up or how you named one of the documents, the search tool, which browses through all of the files quickly, should take care of it.
Ulysses is a really great app, and the only problem is that it is quite an expensive subscription-based app. If this is too expensive for you, or all the writing you want to do on your phone is taking notes, you should check out Evernote. It is an excellent app but lacks some of the elegance and features of Ulysses.
Karen Evans is a former college student who,
after making real money learning how to build and scale niche blogs, decided to
go full time and hasn't looked back since.
After seeing so many people waste time and money trying to learn how to create
websites that make money she decided to create the ever-popular StartBloggingOnline.com.
So far over 9,500 new blogs have been created using her guide!
When she isn't blogging, she enjoys spending time with her family, which
usually involves finding some water to cool off in!