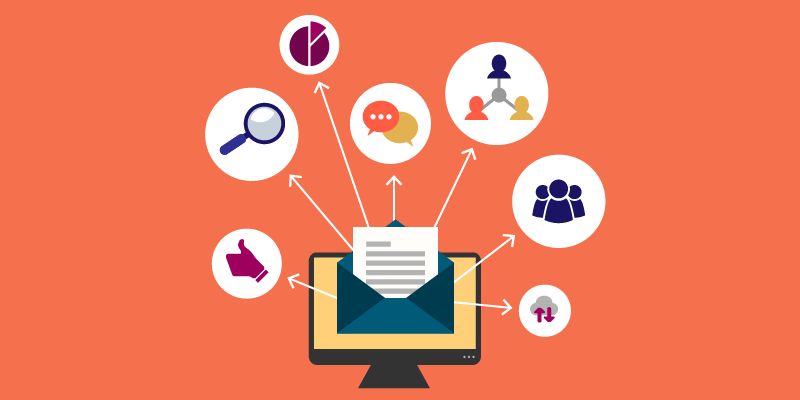 Marketing automation has had a huge impact on the digital marketing landscape. It is an efficient and cost-effective part of a business's marketing strategy that produces so many great results. In fact, nearly 90% of agencies say their marketing automation strategy is successful.
In this blog, we'll take a look at the many ways marketing automation has impacted digital marketing and the ways it will continue to do so in the future. But first, let's look at how marketing automation works as part of a robust marketing strategy.
How marketing automation works
Marketing automation is a way of automating many of your marketing tasks, like sending emails, posting to social media, and delivering ad campaigns. Many companies implement automation without considering the strategy or the 'why.' This often leads businesses to fail at marketing automation.
There are two main objectives to implementing MA tools:
1. Efficiency
By automating marketing functions, you save budget on manual labour and perform functions in quantities that human labour can't.
2. Personalisation
Through efficiency, automation lets you personalise your audience's experience. Let's explore this idea a little further…
Personalisation
With every digital interaction you have with a customer or lead—such as through website visits, email opens, link clicks, app usage, social post engagement—you can collect data.
You can then use this data to tailor messages to customers and create a relevant experience for each customer.
For example, you can display ads to people who have visited your website and browsed your collection without making a purchase, but display different ads to those customers who did make a purchase.
Email marketing
Email marketing is one of the most widely known and commonly used forms of marketing automation. Whether you do email marketing inhouse or choose a marketing automation agency to do it for you, it's a highly successful strategy due to the low costs and high open rates of emails.
In email marketing, you send personalised emails to customers based on their demographics, browsing history, social interactions, and other internet behaviours. With email marketing automation, you can generate leads and nurture leads to sale.
Now that you know more about how marketing automation works, let's take a look at the ways it has shaped the digital marketing landscape in recent years.
How marketing automation has shaped the digital landscape
1. Generates more leads
Generating more leads is a top priority for marketers, and marketing automation is a cheap and effective way to do so. By getting customers to opt-in to your email list via your blog, social channels, or website, you use marketing automation at the top of the funnel. You might use a "lead magnet" like a download or coupon to encourage opt-ins.
Not only does marketing automation help businesses to generate leads, it helps them generate better quality leads. You could warm up cold leads, for example, by sending them useful and interesting emails before attempting to move them along the buyer's journey towards making a purchase.
2. Makes more sales
Marketing automation has helped businesses nurture leads towards sales in a fast, cheaper and more profitable way. According to HubSpot, businesses who nurture leads make 50% more sales at a cost 33% less than non-nurtured prospects.
3. Increases revenue
We've already seen the various ways that marketing automation completes tasks more efficiently than manual labour, and for that reason, is highly cost-effective and profitable.
What all of this amounts to is an increase in revenue. Again, recent data gathered by HubSpot speaks to this, as companies that automate lead management see a 10% or more bump in revenue within 6 to 9 months.
In this way, marketing automation has transformed digital marketing from optional quirk to essential revenue generator.
4. Builds strong relationships
Until marketing automation came along, marketing was viewed as a "top of the funnel" part of the customer experience. That means that it was viewed as useful for generating leads, but less useful for nurturing leads or making sales, which were the domain of the sales department.
However marketing automation has become an invaluable tool for nurturing leads, and of course, retargeting existing customers. Marketing automation can maintain communications with your customer base, feed them useful and interesting content, and build trust and brand loyalty.
As such, marketing is no longer a strictly top of the funnel process but a comprehensive way of engaging customers at various touch points. This is in part due to non-linear customer journeys where people jump back and forth along various touch points.
Also, many people use digital channels even in later stages of the buying journey, as purchases are now possible directly via social media and other platforms.
It's also important to note that the majority of revenue comes from customers after their first purchase, so there's just as much need to focus on customer relationships as there is on generating new leads.
Marketing automation: Future Predictions
1. Personalisation will continue to be important
Personalisation is already crucial: customers expect relevant content, while marketers know that they can best reach and retain customers by delivering tailored content.
And yet as technology continues to evolve, this hunger for personalised content will continue to grow. This means that finding new and innovative ways to personalise is the best way to optimise your marketing automation strategy.
2. Machine learning will optimize marketing automation
Marketing automation will continue to evolve with the help of machine learning. With machine learning, marketers can use the data they have collected using marketing automation to predict new and improved ways of marketing to customers.
For example, machine learning can create audiences for advertising or social campaigns, including similar audiences, detailed demographics and interest audiences.
3. Marketing automation software becomes more valuable
Marketing automation software or customer relationships managers (CRMs) such as HubSpot and Salesforce are hugely popular, and their value and power will continue to grow.
In fact SharpSpring data predicts that the marketing automation software industry will grow 20% each year in the U.S. alone. Such software is evidently a profitable tool for any business using marketing automation.
Conclusion
As you can see, marketing automation has had a huge impact on the digital landscape. It has transformed the purpose and value of marketing as a major way of generating revenue from both new and old customers.
Now it's your turn to maximise the profits that come from marketing automation, whether you choose to deploy these strategies in-house or engage a marketing automation agency to help you out.
George is the CEO and Co-Founder of digital marketing agency Social Garden. Social Garden specialises in data-driven lead generation and marketing automation to grow companies' revenue in different verticals in Australia.