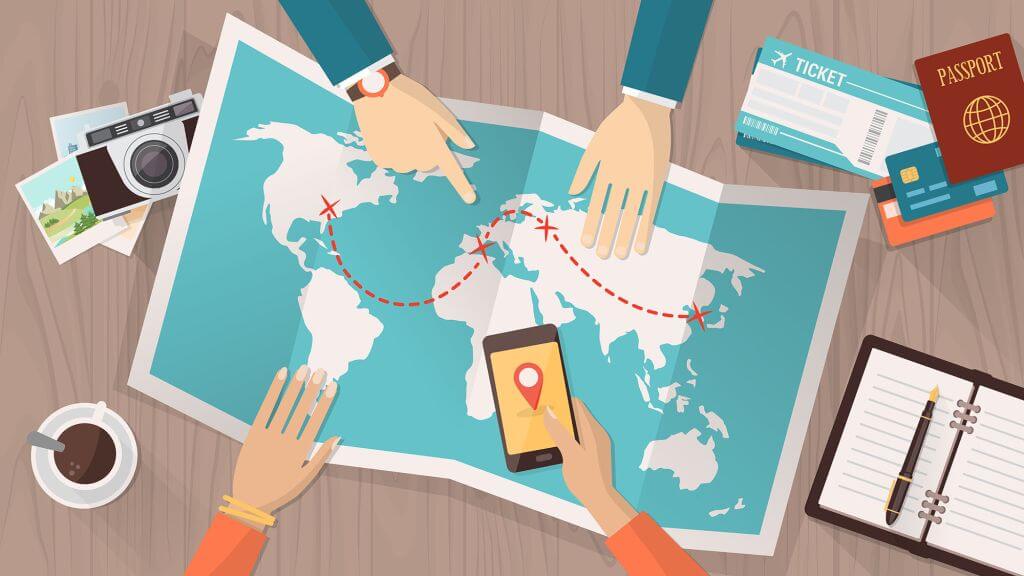 Ages ago, there was this time when people used to have actual, paper-made maps? Remember? Nah! Me neither.  We cannot even visualize getting anywhere without having the map app in our phones. Even though, a number of apps built just for the sake of user-friendliness are simply bizarre, while some of them are designed for the benefit of travel and are actually just tremendous. I had to travel with my family and I was the one arranging everything which led me to extensive research before we execute the plan.
Google maps is an extremely helpful app and this is not the only app to make traveling stress-free; there is so much more to take care of and even more to be prepared for when you are traveling somewhere for the very first time.
Searching for the best checked luggage for travelers in 2020? Check out our pros & cons and aspects of importance when buying the best suitcase.
Here are some of my favorite travel apps:
1. GAS BUDDY –
Visiting a new place for a day or a week, you will need gas either you are renting a car or taking your own car along. GAS Buddy will help you locate the inexpensive gas station in your proximity. It will be a life saver, especially if you are traveling somewhere for the first time. Or, if you have run out of gas all clueless in a new location for hours – you will thank me later.
2. iEXIT –
We all wish if we could just peep into the future. Regardless of the fact that we cannot change it yet the anxiousness remains the same. This app cannot tell you the future but can certainly communicate with you about the updates that can be expected at the upcoming departures during your route. How amazing is technology!
3. TROVER –
This app deals with pictures hence is pretty much similar to Instagram and Pinterest style photo-travel app. It can be a great resource if you are trying to find unseen gems in metropolitan or exciting places along the way. If you are an explorer like me, you will definitely love Trover as I did!
4. ROAD TRIPPERS –
If you want to discover cool places, plan your trips, save schedules. Road-trippers app also has an amazing interface which makes it user-friendly. This is a must-have app for travel or anyone who is always planning trips.
5. FIELD TRIP –
You can have countless apps in your smartphone and won't remember when you needed one while traveling. The most amazing feature of this app is; it notifies you by design whenever you come across something cool which needs to be explored or is considered a popular destination. You can also find food stops, somewhere to drink, historical spots, and exceptional temptations only by being proximate.
6. YONDER – an interest-based app. You can select any outdoor activity you would be interested in, pick your location, and discover places somewhere you'd be able to do that activity near your pinned location. You can furthermore join someone else with similar interests in your marked area and share tips with photographs. I found it an interesting app. For people who have plenty of time or get some time out from the schedules should definitely give it a try.
7. DAY ONE –
It is, by all means, a nicely designed app for journalism which records the cool things you get to witness or thing you do during your road trip. It also adds pictures – how awesome!
8. ROAD TRIP LITE –
If you are one of those who are very specific about the traveling distance, fuel usage and computing that too. This is a great app for tracking your car mileage and fuel expenditures all the way. For long trips and while making everything on budget Road Trip Lite is a must-have app. You will love it!
9. TRIPIT –
Tripit is like your personal manager taking care of everything before you arrive at your destination. It takes care of all your tourism strategies and confirmation emails to hotel and car reservations, for an instance and generates an immaculate journey saved in one place.
10. MAPS.ME –
An offline maps app. If you are not using cox internet plans, it is highly likely that you will undergo challenges such as lack of internet availability during your journey. This app lets you download the map of your journey's end, and then make use of it while you don't have Wi-Fi or access to data. How lovely! More suitable if you are planning to explore desert or mountains with low or no internet coverage.
11. YELP –
Last but definitely not the least, we all want to try a variety of restaurants, popular attractions, or perhaps you need a car mechanic depending upon the classification and location. You can read reviews of old customers and can also see images added by other users. It is a good and quick help based on location and review. I like it and I use it even when I am not traveling. I am a regular Yelper.
The Bottom-line is:
I have shared my personal recommended apps in this article. You can research more and share your best findings with us as well. These apps or any app you come across can help you improve your overall experience. However, you got to make sure that you have the travel-mandatory-list within reach such as clothes according to the season, sufficient water to keep your self hydrated, cash in hand should follow the schedules of all the places you plan to visit or stay, food for munching or energy bites along with basic medication and first aid box. If the homework before traveling is done right, these apps will definitely make your experience stress-free and even more memorable.
On an additional note, take pictures, make a blog, and record your reviews about the food you eat and places you visit. It goes without saying, you must be snap chatting everything on your way. All I am saying is, collect content for posting online later – a refined form. Eat healthy, stay hydrated and enjoy your stress-free trip.